My fellow foodie friend introduced me to za'atar seasoning spice blend last year and I immediately searched for it everywhere.
Initially, I could only find za'atar spice online from Thrive Market but now I have been seeing it everywhere!
I try to only write recipes that all the ingredients are accessible- so hopefully you can find za'atar spice near you.
This za'atar chicken recipe is such an easy and flavorful meal made from Trader Joe's za'atar seasoning and chicken thighs.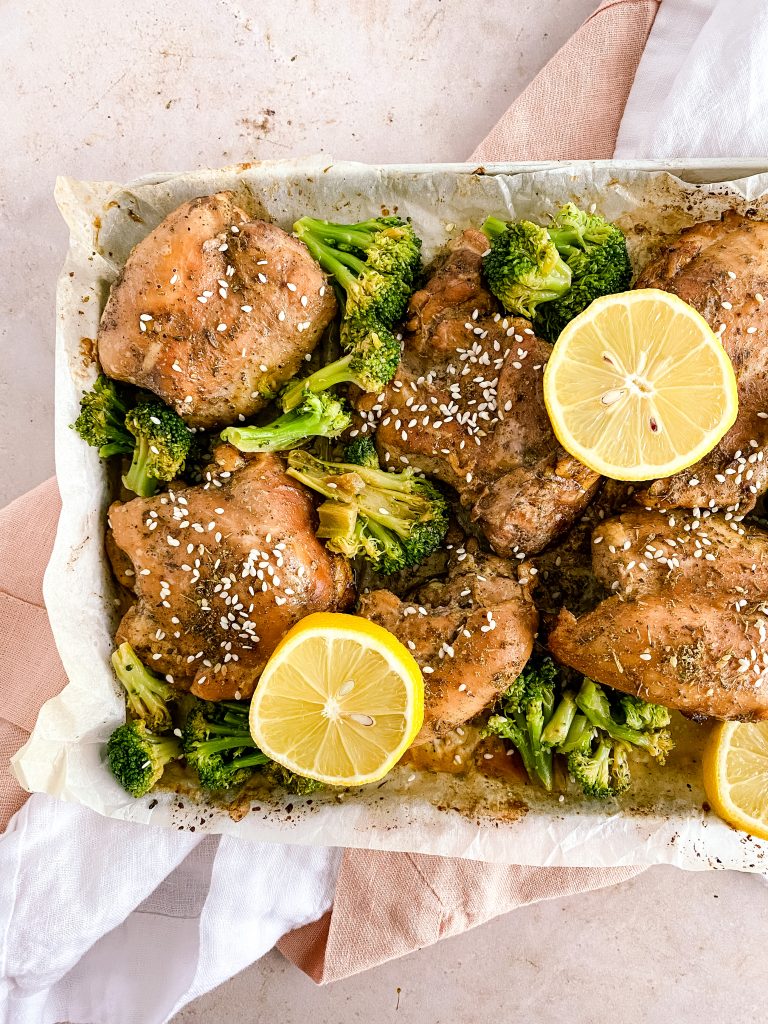 Over the Spoon for:
High protein and low carb chicken dinner
Healthy za'atar chicken
Easy sheet pan meal
What does za'atar taste like? It is a mix of nutty, floral, and tangy flavor. Made from a blend of oregano, thyme, marjoram, sesame seeds, and sumac.
What do you need: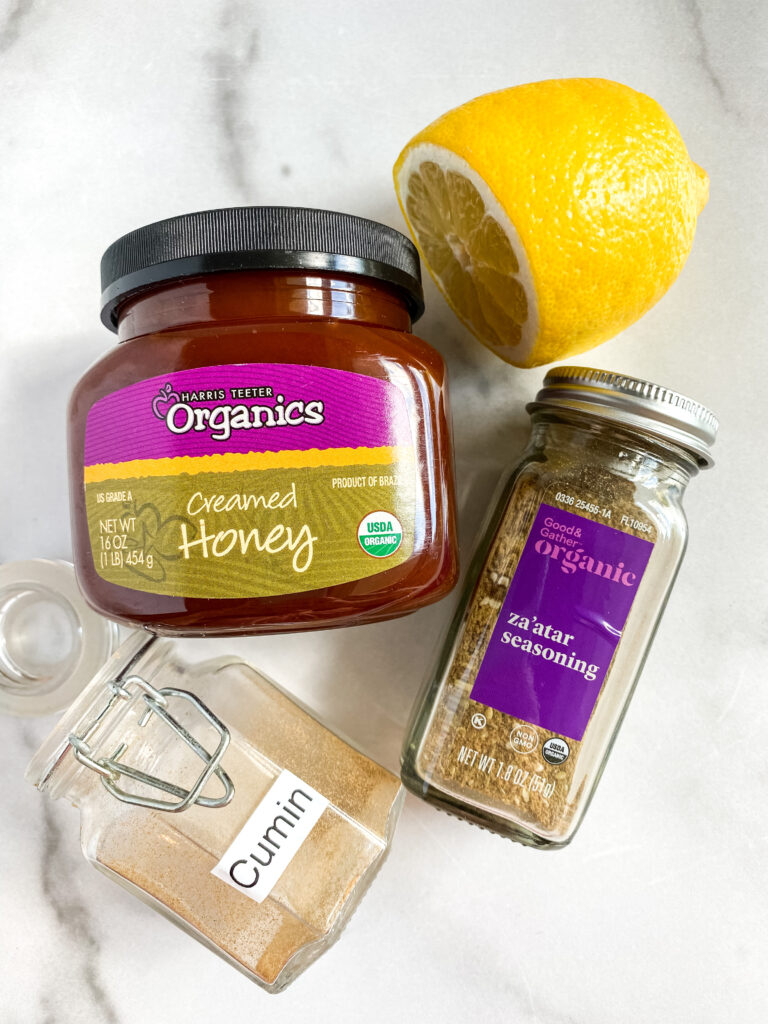 Chicken thighs - I prefer skinless thighs
Za'atar spice
Cumin
Garlic Powder
Honey
Coconut Aminos - you can substitute Tamari or Soy Sauce
Avocado Oil
Lemon Juice
Where to buy Za'atar Seasoning:
I order online at Thrive Market
Target's "Good and Gather" brand
Trader Joe's now carries Za'atar spice seasonally
Whole Foods
How to make:
In a large bowl mix seasonings and liquids.
Marinate the chicken thighs in the Za'atar sauce for at least 20 minutes.
Bake the chicken and serve!
Top tips:
After cooking za'atar chicken thighs for 20 minutes, add chopped raw zucchini tossed in oil, coconut aminos, and a bit more za'atar seasoning and cook along side the chicken for an additional 15 minutes to have a side ready to go!
What to serve with za'atar chicken:
I make roasted vegetables such as zucchini, eggplant, or broccoli while the chicken cooks!
Rice, potatoes, farro, or quinoa make great starchy sides.
Drizzle with a tahini dressing similar to the one made for my Turmeric Chicken Recipe (with Tahini Dressing)
Storing:
Store cooked za'atar chicken in a container and serve within 4-5 days.
Reheat in the microwave for about a minute.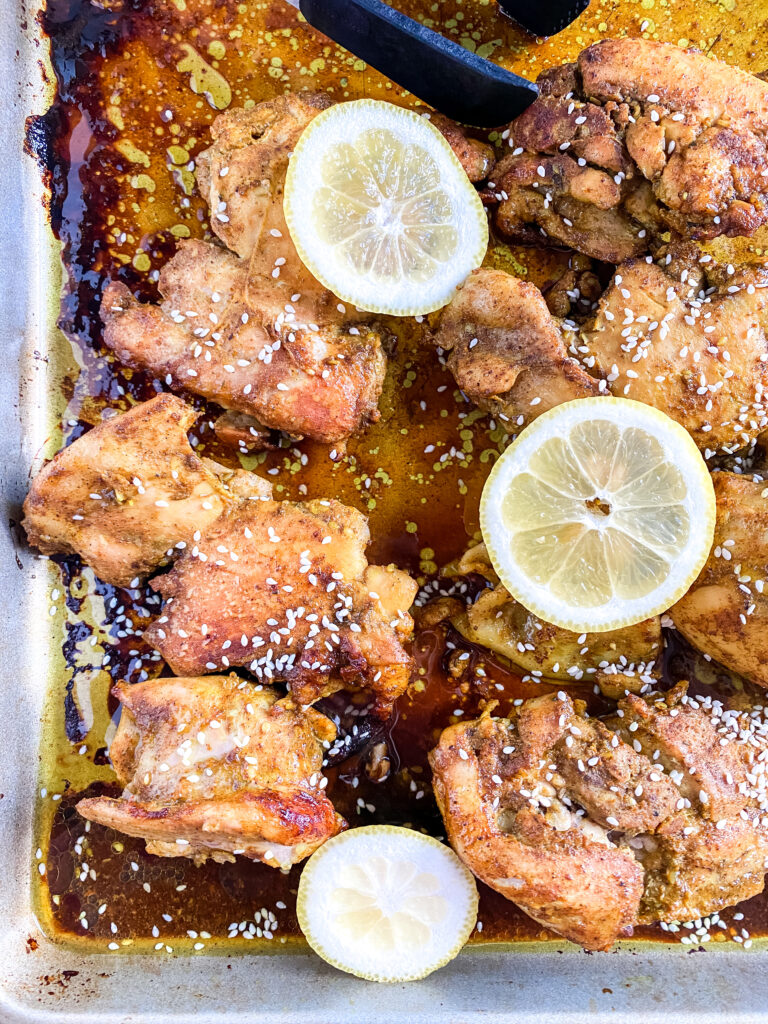 Tips to make in advance:
Marinate chicken in a large bowl or ziplock bag and pre cut zucchini to make it even easier.
If you're a fan of this sheetpan za'atar chicken try my Greek Quinoa Bowl (Easy Meal Prep!) or Trader Joe's Poke Bowl.
I hope you are Over the Spoon for this recipe!
It is my goal to inspire you to create healthy and easy meals.
It would mean the world if you could leave a review or a star rating below!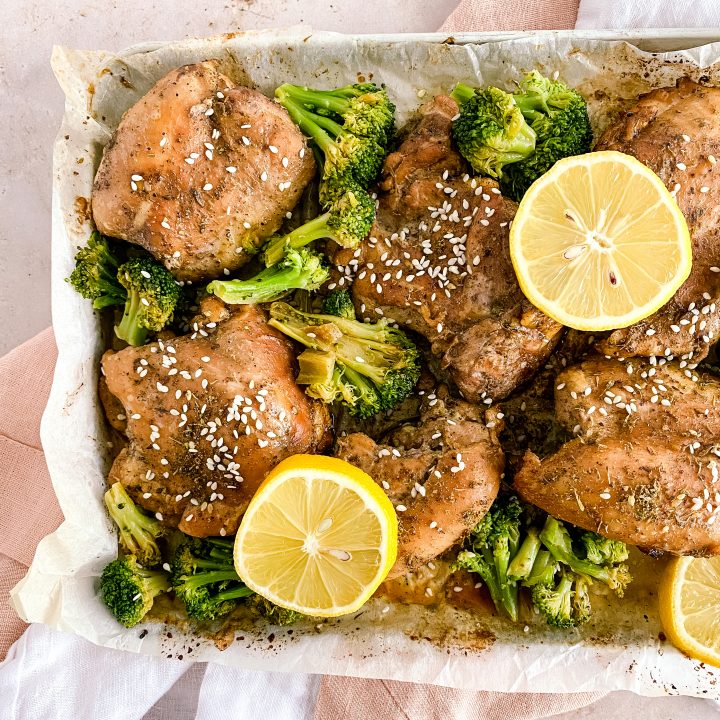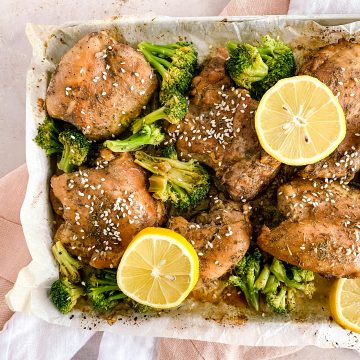 Za'atar Chicken Thighs
An easy and healthy sheet pan chicken thigh recipe with za'atar seasoning
Ingredients
4

chicken thighs, skin off

⅓

cup

coconut aminos

½

tbsp

cumin

1

teaspoon

garlic powder

1

tbsp

lemon juice

2

teaspoon

za'atar seasoning

1

teaspoon

honey

1

tbsp

avocado oil
Instructions
Preheat oven to 400 degree Fahrenheit.

In a large mixing bowl mix together oil, honey, lemon juice, and spices (save 1 tsp of za'atar seasoning for after marinating.)

Marinate chicken thighs in sauce for at least 30 minutes.

Place on a greased sheet pan and sprinkle with additional za'atar spice. Bake in the oven for 20 minutes.

(Optional) to add vegetables tossed in oil and bake with chicken for an additional 15 minutes.

Serve with vegetables and additional sides of choice.
Notes
You can find Za'atar seasoning at Trader Joe's, Whole Foods, and many other grocery stores
Nutrition
Calories:
214
kcal
Carbohydrates:
10
g
Protein:
23
g
Fat:
9
g
Saturated Fat:
2
g
Polyunsaturated Fat:
2
g
Monounsaturated Fat:
4
g
Trans Fat:
1
g
Cholesterol:
107
mg
Sodium:
562
mg
Potassium:
560
mg
Fiber:
1
g
Sugar:
4
g
Vitamin A:
233
IU
Vitamin C:
19
mg
Calcium:
34
mg
Iron:
2
mg