If you are wondering.... what the heck is Gluhwein?!

Gluhwein is the German word for mulled wine, translated as "glowing-wine." After one sip you will totally get the *glowing* feeling.
It is a traditional warm spiced wine, often called German mulled wine, that is served in mugs as a cheery warm drink during the winter months throughout Germany and parts of France.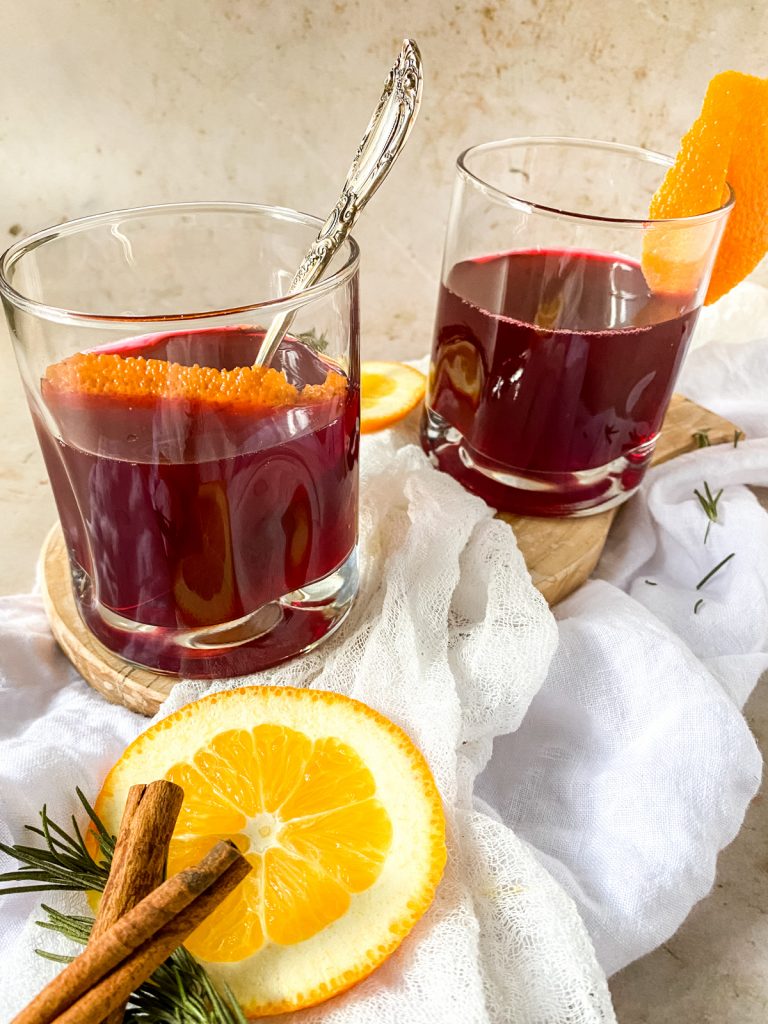 If you want to make a nonalcoholic mulled wine recipe called, Kinderpunsch, that can be made using the same spices and simmered with apple cider, cranberry, or grape juice.
My dad's side of the family is from Hamburg, Germany... making this is a very special family recipe! This recipe is definitely the "easy" way to make hot German wine by using the Gluhfix tea bags.
We find the Gluhfix tea spices on Amazon and make the recipe on the stovetop in a large pot. My dad is famous for bringing this in a large thermal to outdoor parties to keep everyone warm by a fire. I hope you enjoy!
Over the spoon for:
An easy and fast Gluhwein recipe
Spreading holiday family traditions
A warm mulled wine for the cold holidays
What do you need for the best Gluhwein: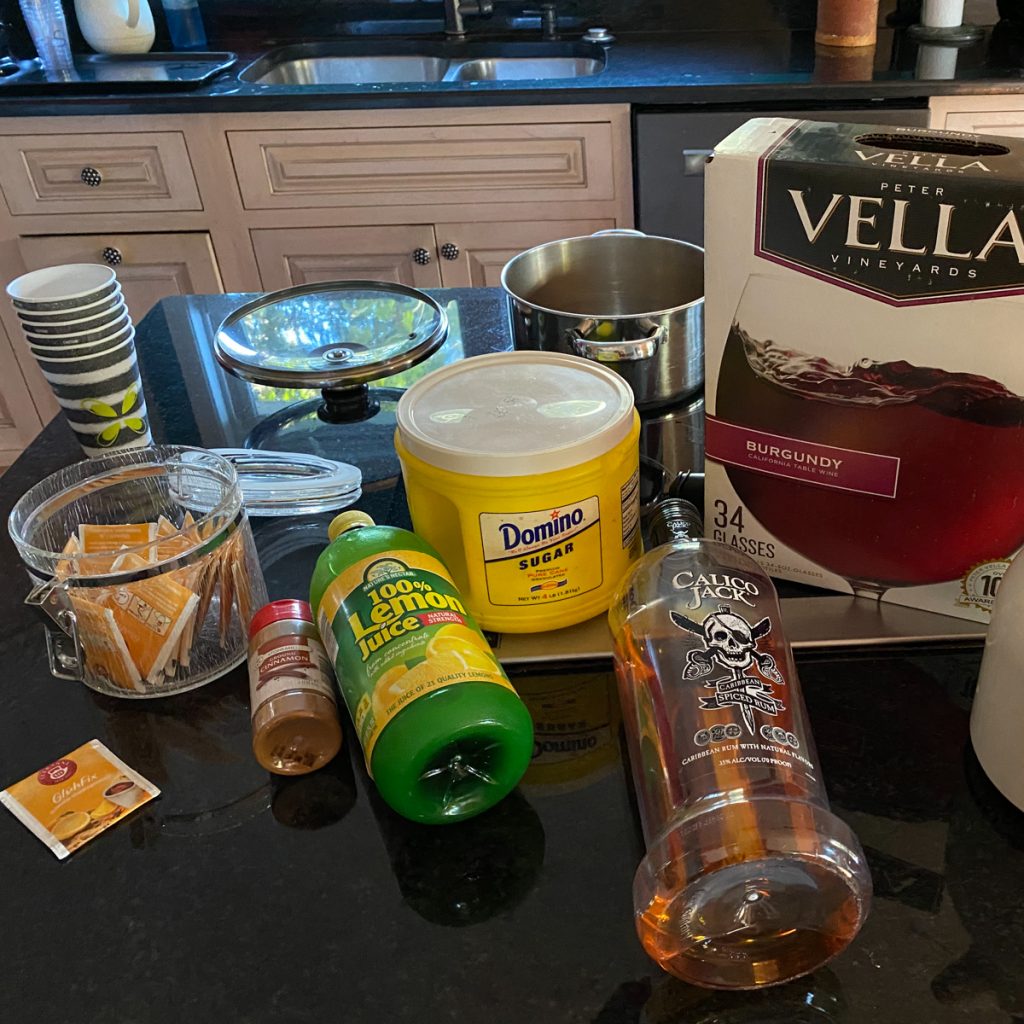 The best wine for making homemade Gluhwein is burgundy wine or a red wine blend: this is not the time for fancy wines. A cheap bottle of red is great!
Gluhfix spice tea bags (found on amazon!)- if you can't find these or a similar mulled wine spice you could make your own mulled wine spices using a mixture of dried orange peel, cinnamon, and cloves.


Sugar - granulated sugar works best

Lemon Juice - fresh or a bottle of lemon juice

Optional additions:
Spiced rum to add to each mug - for an extra *glow*
Cinnamon sticks for extra spiced flavor
Substitutions:
You can use granulated sugar, coconut sugar, or a sugar replacement such as monkfruit sugar
If you don't have lemon juice you could use water instead to make more of a simple syrup.
To make a mocktail Gluhwein version of this recipe use apple cider, cranberry, grape juice, or non-alcoholic red wine instead of wine.

If you have extra Gluhfix tea bags you can use them with plain boiling water to make a mulled wine tea. 🙂
If you don't have the Gluhfix tea bags: place several whole cloves in an orange peel and allow peel the peel to dry overnight to use in place of teabags with the addition of 2 cinnamon sticks. Then you can place the dried orange peels and cinnamon sticks in the pot and remove with a slotted spoon before serving.
How to make:
Dissolve sugar into lemon juice in a large pot.
Add red wine and bring to a simmer then turn the heat on low.
Add tea bags to the pot and keep warm.
Tip: Do not allow the wine to rapidly boil, only bring to a simmer and then keep warm.
Serve with:
Friends! This is best on a cold night around a fire to stay warm. Be sure to balance snacks and drink responsibly.
Feeling extra cold? Add a splash of spiced rum to each glass.
To garnish: use a twist of a lemon peel
What type of glass should you serve mulled wine in?
You need to use a glass with a handle so that you can serve the Gluhwein while it is warm.
You can use your favorite coffee mug or any glass that handle heat that has a handle.
Now that you have a holiday drink, try this holiday Brownie Brittle Recipe (Paleo!)
How long does this last?
Store this in room temperature in a carafe like you would regular red wine, for up to one week.
You can reheat mulled wine in a coffee mug in the microwave or reheat leftover Gluhwein on the stove top.
I hope you are Over the Spoon for this recipe!
It is my goal to inspire you to create healthy and easy meals.
It would mean the world if you could leave a review or a star rating below!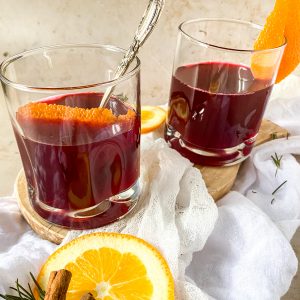 German Mulled Wine
This is an easy and delicious German mulled wine recipe made with simple and easy ingredients.
Ingredients
¼

cup

sugar

¼

cup

lemon juice

750

milliliter

Bottle of Red Wine

2

bags

Gluhfix Spice Tea bags
Optional
2

ounces

spiced rum

2

cinnamon sticks
Instructions
In a large pot bring lemon juice and sugar to a boil stirring until sugar is dissolved and the mixture has thickened.

Add red wine, spice bags, and cinnamon sticks to sugar mixture and heat until wine is simmering (not boiling) for 20 minutes.

Remove spice bags and cinnamon sticks and turn off heat.

Optional to add 2 ounces of spiced rum, stir thoroughly, and serve in mugs.
Nutrition
Calories:
199
kcal
Carbohydrates:
16
g
Protein:
1
g
Fat:
1
g
Saturated Fat:
1
g
Polyunsaturated Fat:
1
g
Monounsaturated Fat:
1
g
Sodium:
6
mg
Potassium:
210
mg
Fiber:
1
g
Sugar:
11
g
Vitamin A:
8
IU
Vitamin C:
5
mg
Calcium:
27
mg
Iron:
1
mg