Turmeric Chicken will taste like an exotic meal while providing super food benefits. 
This chicken shawarma plate is easy to make, full of super food benefits, and is a great flavorful way to season chicken.
It is amazing over rice or in a pita pocket and makes for a delicious shawarma flavored meal. You don't HAVE to add the tahini dressing but it really gives it a juicy addition. I also finds it's great with an extra squeeze of lemon juice before serving.

How do you make chicken shawarma?
Start by mixing together the cinnamon, turmeric, cumin salt, and pepper in a large bowl.
Then just coat diced chicken in seasoning and throw in a greased pan, cooking the turmeric seasoned chicken all the way through!
What is Tahini?
Tahini is a paste made of ground sesame seeds and often found in Mediterranean dishes such as hummus and baba ganoush recipes.
It is amazing to have on hand to throw together a quick dressing. I buy a jar of it at Trader Joe's and it lasts forever in the fridge. The consistency is like a creamy peanut butter so it takes some getting used to figuring out the best water, tahini, and lemon juice combination. The dressing would be great with additional spices such as salt, pepper, or cumin as well!
This is also the "healthy fat" provided in this meal to keep it more filling!
How do you make tahini dressing?
It's easy! whisk together 2 tablespoons tahini, 4 tablespoons water, and 1 tablespoon lemon juice. You can add some salt and pepper and add more tahini or water based on the consistency you like.
The spices for the turmeric chicken recipe sound a little crazy and a lot to throw together, but I promise its very simple and healthy! Hello to anti-inflammatory and blood sugar stabilizing super foods.
Is chicken shawarma healthy?
Yes! Turmeric is known for it's anti-inflammatory properties and gives this dish a beautiful bright color. Cinnamon is another super food spices known to stabilize blood sugar.
Over the Spoon for:
Anti-inflammatory spices
Full of flavor, protein, and healthy fat
Easy meal prep
Meal prep can be so easy and still flavorful. Don't let your chicken dishes be boring!
For other great chicken dish try this:
Easy Chicken Fajita Casserole.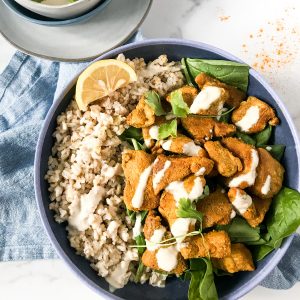 Chicken Shawarma Plate
Ingredients
1

lb

chicken breast (diced into cubes)

1

tbsp

olive oil

½

tsp

turmeric

½

tsp

cinnamon

1

tbsp

cumin

½

tsp

salt

½

tsp

pepper

4

tbsp

tahini

2

tbsp

water

1

tbsp

lemon juice
Instructions
In a small bowl mix together all spices.

Dice chicken and coat chicken in spices.

Heat olive oil on medium heat and cook chicken on stove top making sure to flip chicken for approximately 10 minutes or until cooked through.

For the sauce, whisk together tahini, water, and lemon juice in a small bowl. Option to add salt.

Serve chicken with either rice, over lettuce, in a pita pocket, or by itself- drizzling tahini sauce on top to serve.
I hope you are Over the Spoon for this recipe!
It is my goal to inspire you to create healthy and easy meals.
It would mean the world if you could leave a review or a star rating below!