Did you know that you can roast frozen broccoli?
It is such an easy way to make frozen vegetables and gives them a ton of flavor.
My absolute favorite side dish is this Asian broccoli (made from frozen broccoli.) I make this AT LEAST once a week and eat it all within a day.
This healthy side dish is inspired by some of my favorite Asian flavors and condiments such as sesame oil and soy sauce. I use Tamari to make it gluten-free.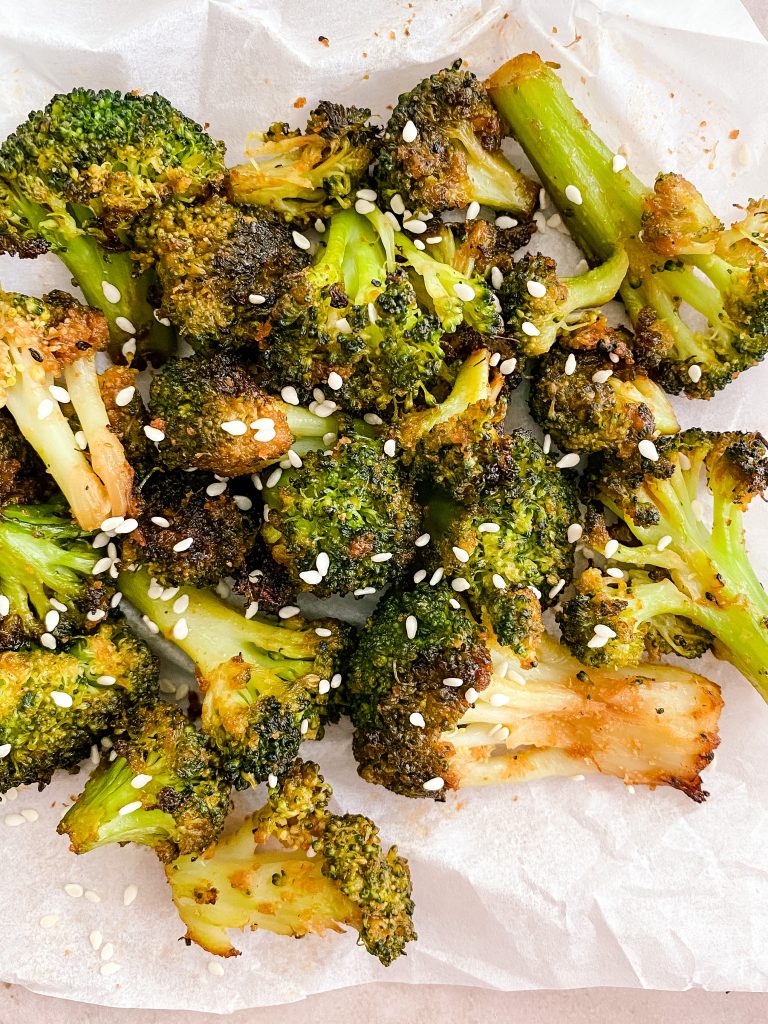 Over the Spoon for:
Flavorful broccoli side
Fiber filled
A new use for frozen vegetables
What do you need:
1 bag frozen broccoli
Tamari
Lemon juice
Garlic powder
Avocado oil
Optional:
Sesame oil
Sesame seeds
Sriracha
Substitutions:
You could make this Asian broccoli with any frozen vegetable. Frozen cauliflower, a vegetable medley, or a stir fry blend would be incredible with this flavor combination.
If you don't have tamari, try soy sauce if you aren't gluten-free, or coconut aminos.
The sriracha makes this a bit of a spicy Asian broccoli, if you don't like spice you can omit completely or use some honey for a sweeter taste.
Scaling the recipe:
I highly recommend doubling this batch! As long as you have an extra sheet pan and room in your oven, just double all the ingredients.
How to make: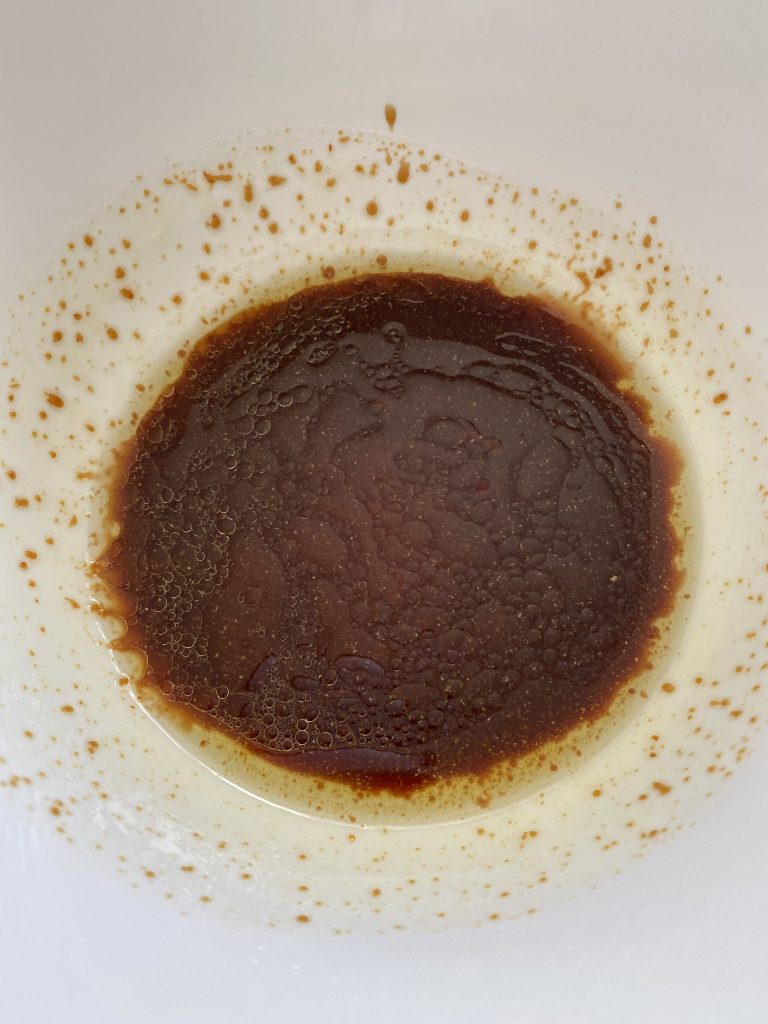 Preheat oven to 400 degree Fahrenheit.
Place broccoli florets on a sheet pan, spaced out so they don't touch each other as this will cause them to steam rather than roast.
Roast broccoli, with nothing on it, for 10 minutes.
In a mixing bowl stir together all the ingredients for the sauce.
After 10 minutes, flip the broccoli and cook 10 more minutes.
Toss the roasted broccoli in sauce and spray sheet pan with cooking oil and then place broccoli on sheet pan.
Cook for 10 more minutes, flipping halfway through and serve!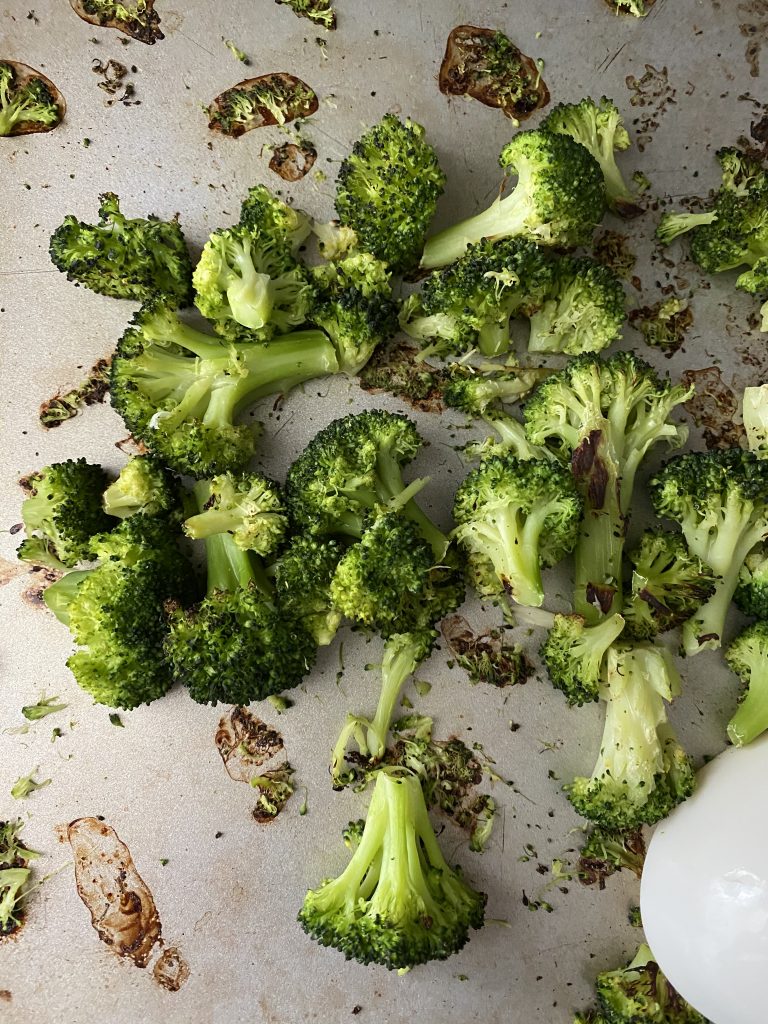 If you want to make this with fresh broccoli:
Spray a sheet pan with oil place broccoli and spray with oil.
Roast for 15 minutes and then toss in sauce.
Roast for 15 more minutes, tossing halfway through.
Drizzle with sesame oil and sesame seeds to serve.
Tips:
It is very important to space out broccoli when cooking straight from frozen so it doesn't steam.
Keep an eye on the broccoli seeing if it needs to be tossed! The tossing times are key to getting this right.
Serve with:
Your favorite entrée! I love this as a side to salmon, a burger, or in a Buddha bowl.
Store this Asian broccoli in the fridge for about 5-6 days.
Reheat in the microwave or by broiling the Asian broccoli on a sheet pan.
This makes great left overs!
If you are a fan of easy and flavorful vegetables, try this Balsamic Green Bean Side Dish next.
I can't wait to hear what you think! I would be so grateful if you would review the recipe below!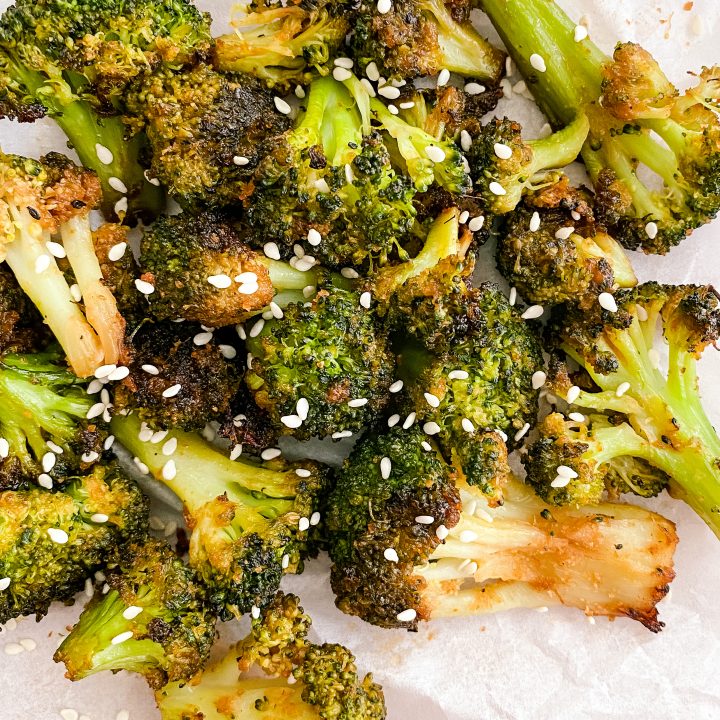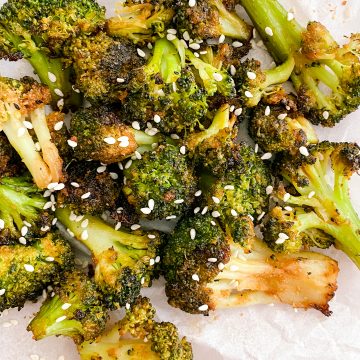 Asian Broccoli
This roasted Asian broccoli recipe is full of flavor. A touch spicy and sweet.
Ingredients
1

bag

frozen broccoli

1

tbsp

sesame oil
sauce
2

tbsp

tamari or soy sauce

1

tbsp

avocado oil

1

tbsp

lemon juice

½

tsp

garlic powder

1

tsp

sriracha

optional if don't like spicy
Instructions
Preheat oven to 400 degree Fahrenheit.

On a sheet pan, plan frozen broccoli florets spaced out with nothing on them.

Roasted for 20 minutes, tossing halfway through.

In a large bowl mix together everything for the sauce (not the sesame oil) and toss broccoli in sauce.

Roast broccoli an additional 10 minutes and serve drizzled with sesame oil and sesame seeds.
Nutrition