Inspired by the slimming world quiche, this keto crustless quiche is a new staple in our house! It is great because it uses cottage cheese for extra protein and does not need as many eggs as other quiches call for.
This is perfect for any brunch or to meal prep for an easy health breakfast during the week!
If you are hosting a brunch, pair this quiche with Banana and Carrot Muffins or Homemade Bagel Recipe (Gluten-free)
I am over the spoon for this slimming crustless quiche recipe - because it is loaded with vegetables, flavor, and protein for the perfectly balanced breakfast. It is naturally gluten-free and vegetarian!
The classic quiche recipe uses a crust and heavy cream along with eggs.
Don't fret - this quiche is still full of flavor without the crust! Rather than using heavy cream - it uses cottage cheese which provides an additional serving of protein.
So.... is this a quiche... or is it a frittata?
A frittata is usually cooked on the stove and then finished in the oven - while a quiche usually includes a crust - this crustless quiche fully cooks the eggs in the oven and swaps cottage cheese for cream.
How to make slimming crustless quiche:

Start by sauteing vegetables - you can absolutely swap out the variations here!
Line a baking dish with parchment paper - HELLO easy clean up! and add cooked vegetables to parchment paper.
Whisk eggs with the rest of the ingredients - pour over vegetables and bake.
The Ingredients:
Eggs : only 4! I personally dread going through a carton of eggs to make a quiche or frittata so I love that it only calls for 4.
Cottage Cheese: this helps to thicken and bind the dish - and add a ton of extra protein.
Vegetables: I used mushrooms and leeks but you can try new variations
Flour: use gluten free if needed or all purpose
Parmesan cheese: grated parmesan works best
Top tips:
Line your baking dish with parchment paper - it makes all the difference for easy clean up!
If you don't have parchment paper, then be sure to grease the baking dish with oil or butter.
Sauté vegetables before baking - this will help reduce their water content
Variations:
You can swap out the mushroom and leek combination for so many different options.
Think: adding meat such as cooked sausage or ham.
Mexican inspired: by adding cooked peppers, green chiles, and tomatoes.
Keep it simple: by just using your favorite meat and cheese combination
How to store and reheat:
Store in the refrigerator, in an air tight container or with plastic wrap, for 3-4 days.
Reheat on a microwave safe plate in 30 second increments depending on the size of your piece.
Can you freeze a crustless quiche? You sure can! Store in an airtight container for up to 4 months and allow to thaw before reheating.
Can you make this ahead?
You could prep everything by cooking vegetables and preparing quiche, 1 day in advance, and simply bake it in the morning.
What to serve with crustless quiche?
I love to serve this with a fresh salad with a Red Wine Vinegar Dressing or a soup such as Black Bean Curry Soup.
I hope you are Over the Spoon for this recipe!
It is my goal to inspire you to create healthy and easy meals.
It would mean the world if you could leave a review or a star rating below!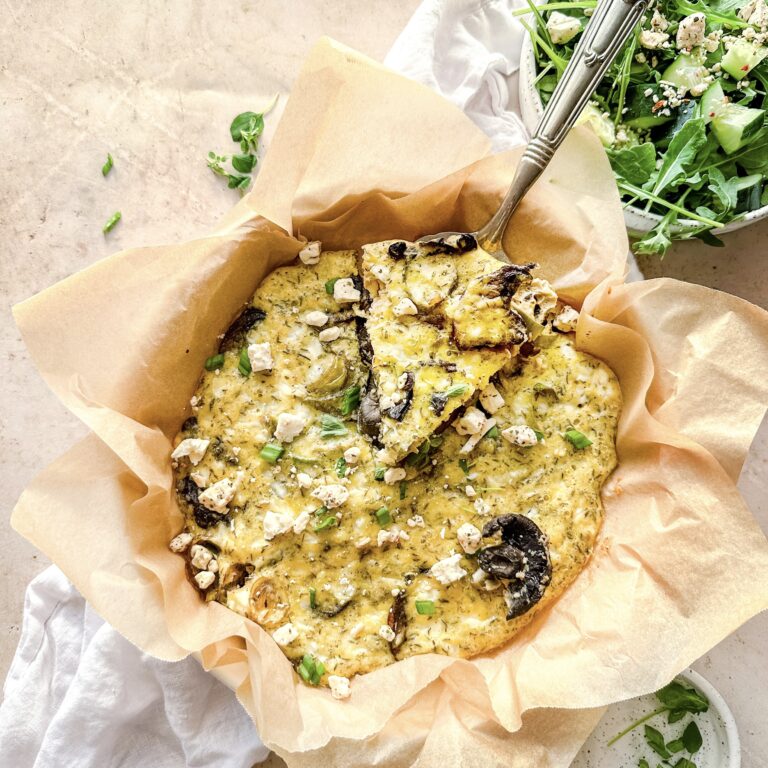 Slimming Crustless Quiche
This slimming crustless quiche is the perfect breakfast or brunch dish that is full of protein!
Ingredients
4

eggs

½

cup

low-fat small curd cottage cheese

½

cup

sliced baby bella mushrooms

½

cup

sliced leeks

2

teaspoons

dried thyme

¼

cup

all purpose flour

¼

cup

grated parmesan

¼

teaspoon

salt
Instructions
 Start by sautéing mushrooms and leeks in a greased pan over medium heat for 5 minutes.

Line a baking dish with parchment paper (for easy clean up!) and place cooked mushrooms and leeks over parchment paper.

In a mixing bowl, whisk together the eggs, cottage cheese, flour, parmesan, thyme, salt and pepper.

Pour over mushrooms and bake at 345 Fahrenheit for 40 minutes.

Serve with optional toppings such as fresh herbs or goat cheese.
Nutrition
Calories:
148
kcal
Carbohydrates:
10
g
Protein:
12
g
Fat:
6
g
Saturated Fat:
3
g
Polyunsaturated Fat:
1
g
Monounsaturated Fat:
2
g
Trans Fat:
0.02
g
Cholesterol:
170
mg
Sodium:
435
mg
Potassium:
169
mg
Fiber:
1
g
Sugar:
2
g
Vitamin A:
508
IU
Vitamin C:
2
mg
Calcium:
116
mg
Iron:
2
mg