Mexican beans and rice is a tried and true 'no-recipe' recipe.
Do you have one of those recipes that is simple, filling, and is a great base to serve lots of ways?
3-ingredient recipe:
Beans, rice, and rotel is all you need! This really shouldn't even be listed as a 'recipe' but I wanted to share how is and versatile it is!
Why are beans so filling?
Beans keep you full from the high fiber and protein content! One cup of cooked black beans serves up about 15 grams of fiber and 15 grams of protein. Did you know beans and rice make a complete protein, providing you with all 9 essential amino acids? Prettty awesome, especially for all my vegetarian friends!
How do you serve Mexican beans and rice?
To make it a complete meal aka full of fiber, protein, and fat - just add avocado! This will add that great source of healthy fat and keep it extra satiating.
From there you can add any protein of choice (chicken, ground beef, steak), cheese, sour cream, hot sauce, chopped romaine, cilantro, limes...etc etc!
Or you can serve on the side of tacos with a lime wedge for garnish.
Over the Spoon for:
Source of a complete protein
Full of fiber
3-ingredients
Affordable and healthy
Vegetarian Meal
Gluten-free
How to make eay Mexican beans and rice with just 3 ingredients:
Just cook 1 cup of rice as instructed, mix in 1 can of black beans, and 1 can of Rotel (or your favorite brand of diced tomatoes and green chilies). Add toppings (or not) and serve!
Yes,it's that simple and affordable to make a full meal with real foods. (insert clapping emoji)
I recently made this and topped it with my Corn Salsa  and that was a GAME changer.  I would love to hear what you top it with!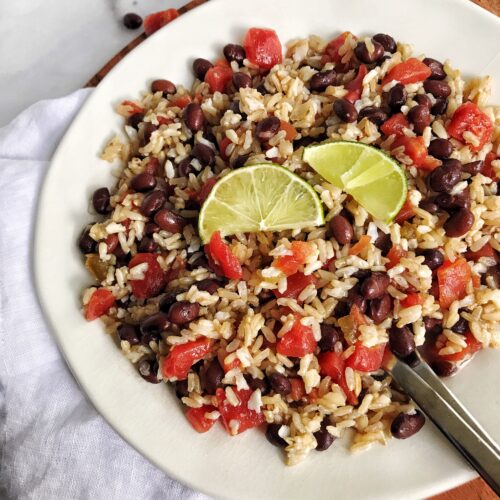 Easy Mexican Beans and Rice
An affordable and easy source of protein, fiber, and carbohydrates.
Ingredients
1

cup

rice (cooked)

1

can

black beans

1

can

rotel
Instructions
Cook 1 cup of rice as instructed.

Mix in 1 can of drained black beans and 1 can of drained Rotel.

Top with additional toppings or serve as is!
Sometimes it's easier to make a meal based around the sides...
I always make this for a mexican themed meal and my  Italian Green Beans for any sort of Italian chicken dish.