If you are a fan of air fryer recipes, roasted artichokes, or cooked artichokes...then you will love these easy air fryer artichoke hearts. They are such a simple yet delicious low carb and easy appetizer or side dish.
If this is your first time trying an air fryer artichokes recipe.. don't worry it's a super easy and a healthy appetizer to make!
They can be made in about 15 minutes in an air fryer basket and are made with parmesan cheese rather than panko bread crumbs to make them keto friendly and low carb.
With just a few ingredients and an air fryer - these will be a crowd pleaser at your next event!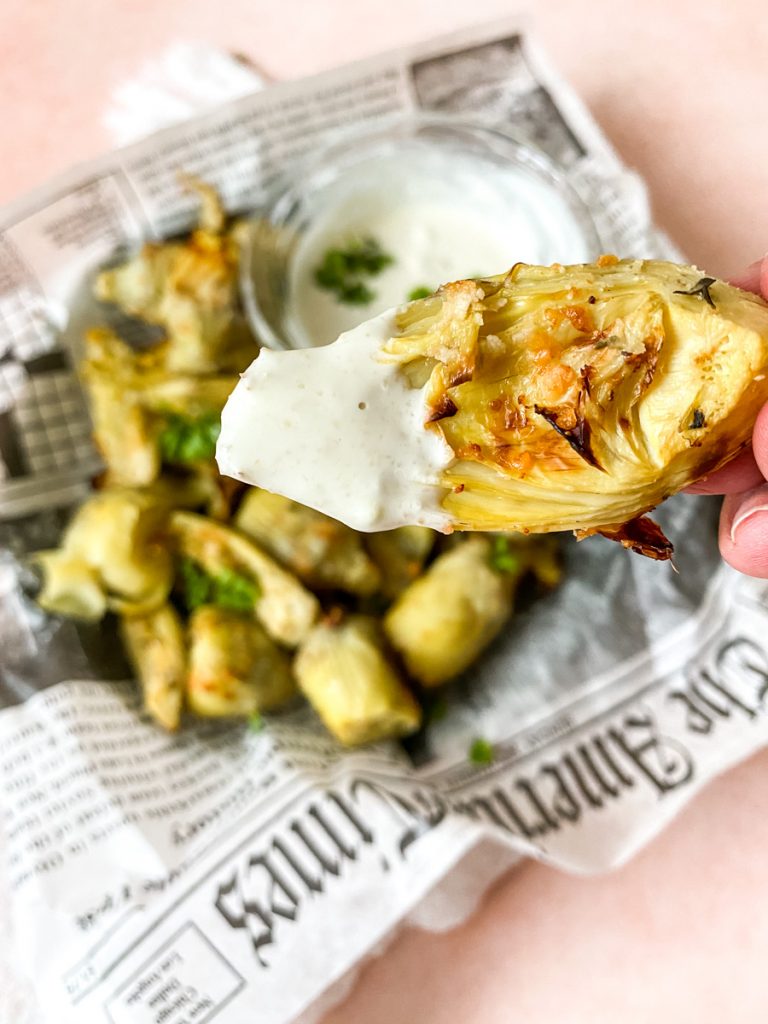 Artichoke Benefits:
Did you know they are ranked as the number one vegetable for antioxidants?
They are full of fiber and are known to help digestion.
Artichokes are known to be anti-inflammatory and contain pre and probiotics
Artichokes are great at helping the liver to detox.  
A great source of Vitamin K.
Over the Spoon for:
All the health benefits of artichokes
Crowd pleaser air fryer artichoke recipe
Loaded with fiber to keep you full
A delicious appetizer
What do you need to make air fryer artichokes:
Canned quartered artichoke hearts in water – you can use cans of whole artichoke hearts or artichoke halves but the quartered hearts are my favorite because they get crispier and are better for dipping. Plus! using canned artichoke hearts rather than fresh artichokes means you don't have to worry about tough outer leaves to peel back.
grated parmesan cheese
Italian seasoning or seasoning of choice
lemon wedges
Optional:
Your favorite dip or homemade garlic aioli dipping sauce made of mayonnaise, fresh lemon juice, garlic powder
Dietary: These air fryer artichokes are naturally gluten-free, vegetarian, low carb, and keto friendly.
How to make:
Strain, rinse, and pat artichoke hearts of excess liquid with a paper towel.
In a shallow bowl toss the artichokes in seasoning and parmesan.
Air fry in air fryer basket, tossing halfway through cooking time. 
Air fryer artichokes are best served right away while crispy (and with an aioli lemon sauce to dip!)
If you're a fan of these low carb air fryer artichokes you should try my:
Air Fryer Brussel Sprouts with Bacon
Keto Parmesan Crusted Chicken (Air fryer)
I hope you are Over the Spoon for this recipe!
It is my goal to inspire you to create healthy and easy meals.
It would mean the world if you could leave a review or a star rating below!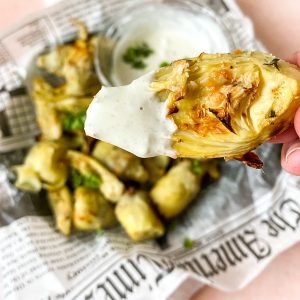 Easy Air Fryer Artichokes (with Aioli)
These keto air fryer artichokes are made low carb for a healthy appetizer
Ingredients
2

cans

artichoke hearts, quartered in water

¾

cup

grated parmesan cheese

½

tsp

garlic powder

½

tsp

Italian seasoning

½

tsp

salt
Aoli
2

tbsp

mayo

½

tbsp

lemon juice

1

tsp

finely minced garlic
Instructions
Preheat air fryer to 375 Fahrenheit

Strain and rinse artichoke hearts and pat dry

In a shallow bowl mix together parmesan cheese and spices.

Spray artichoke hearts with olive oil and toss in cheese mixture.

Set aside on a plate and spray with olive oil again.

Air fry artichoke hearts for 12 minutes, tossing half way through.

Serve with aioli sauce to dip.
Nutrition