This gluten free tabouli recipe is naturally grain free and gluten free. Tabouli salad or Tabbouleh is a Mediterranean dish typically made with bulgur wheat but this recipe is made without bulgur (or sometimes quinoa) to make it a low carb recipe.
If you aren't looking to eat low carb you can add cooked bulgur or quinoa into the recipe.

The number one ingredient in this recipe is finely chopped fresh parsley! You can eat this gluten free tabouli salad as an appetizer, a topping to a Greek bowl, or as the base of a salad.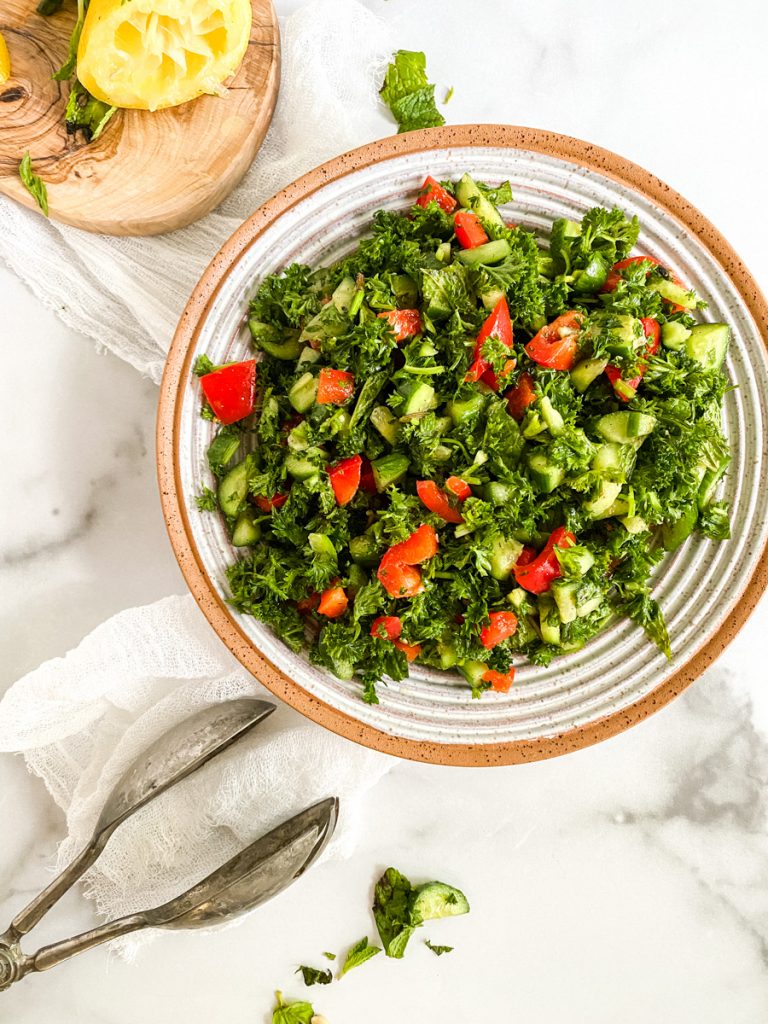 Over the Spoon for:
packed with fiber and healthy fats
low carb appetizer
Easy and gluten free tabouli
What do you need to make this tabouli without bulgur:
parsley - must use fresh
mint - must use fresh
English cucumber - or seedless cucumber
red wine vinegar
additions: add more flavor with chopped green onions. If you want to add grains to this recipe you could add bulgur wheat or cooked quinoa.
Dietary: This recipe is naturally gluten-free, dairy-free, keto, low carb, paleo, and whole30 compatible!

This recipe tastes better the next day! I recommend eating within 4 days.
Unfortunately, you can't freeze tabouli. It is best made with all fresh ingredients and would not thaw well.
How to make:
Simple chop and dice the fresh ingredients and toss in oil, vinegar and lemon juice. Allow to marinade for at least 30 minutes before serving.
What do you eat tabouli with:
If you don't need this to be low carb serve with pita chips or bell pepper slices to scoop.
It is wonderful served over cauliflower rice (or regular rice), with hummus, and protein of choice.
If you like this low carb tabouli recipe you should try my:

Easy Corn Salsa (crowd pleaser recipe!)
I hope you are Over the Spoon for this recipe!
It is my goal to inspire you to create healthy and easy meals.
It would mean the world if you could leave a review or a star rating below!
Gluten Free Tabouli (tabbouleh)
A keto tabouli salad made with fresh herbs for a Mediterranean appetizer.
Ingredients
2 ½

cups

finely chopped parsley

¾

cup

chopped mint

2

cups

diced English cucumber

1

diced red bell pepper

2

lemons, juiced

1

tbsp

olive oil

1

tbsp

red wine vinegar

salt and pepper
Instructions
Finely chop parsley and mint, using a food processor could make this process even faster.

Dice cucumber and bell pepper and place in a large bowl, toss in salt and pepper.

Add chopped herbs and stir in lemon, olive oil, and vinegar.

Cover and allow to marinate for at least 30 minutes before serving.
Nutrition