Looking for a low carb side that tastes like roasted red potatoes? You may not believe it until you try them but air fryer radishes are the perfect dupe!
All you need to do is marinate radishes and then when you are ready to eat them you can air fry in less than 15 minutes.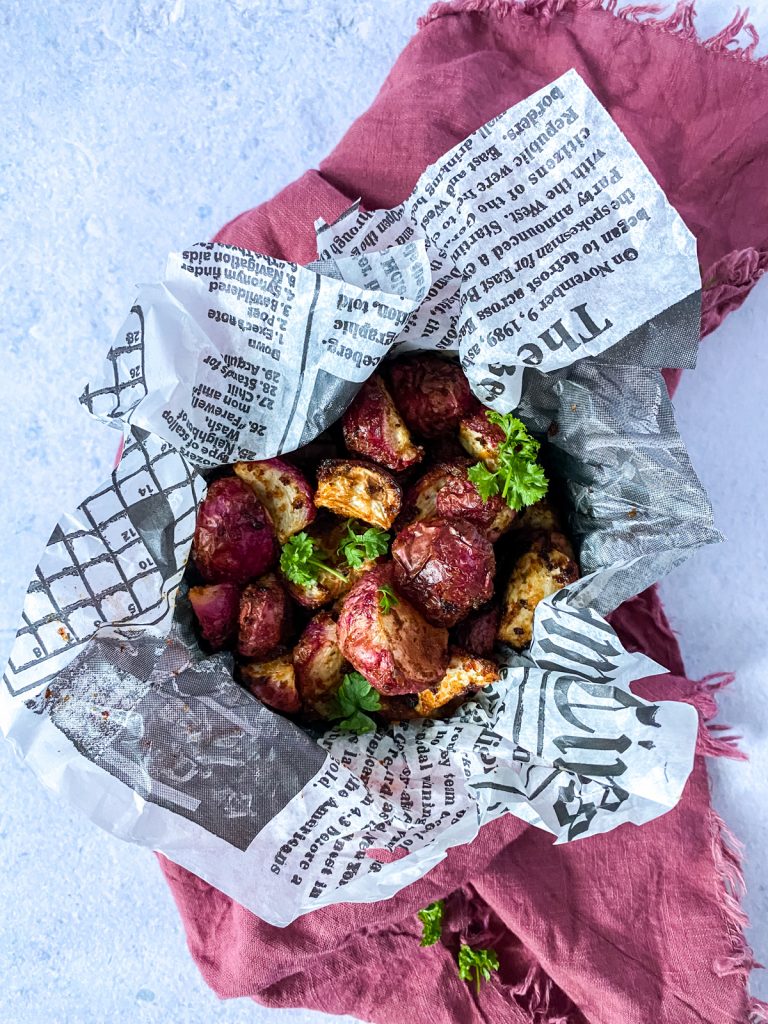 Over the Spoon for:
A low carb side dish that's great to replace red potatoes
Radishes are full of calcium and potassium
A high fiber and delicious side
What do you need: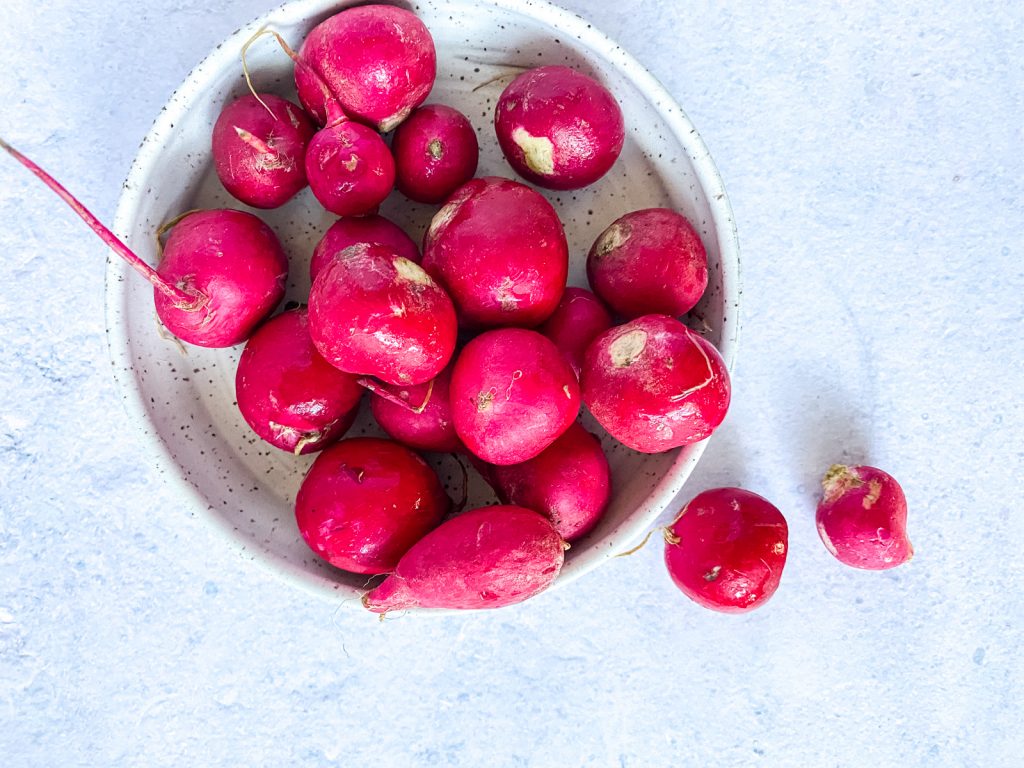 All you need is an air fryer, radishes, cooking oil, and seasonings!
To add even more flavor or change the taste try various seasonings or add parmesan cheese.
How to make: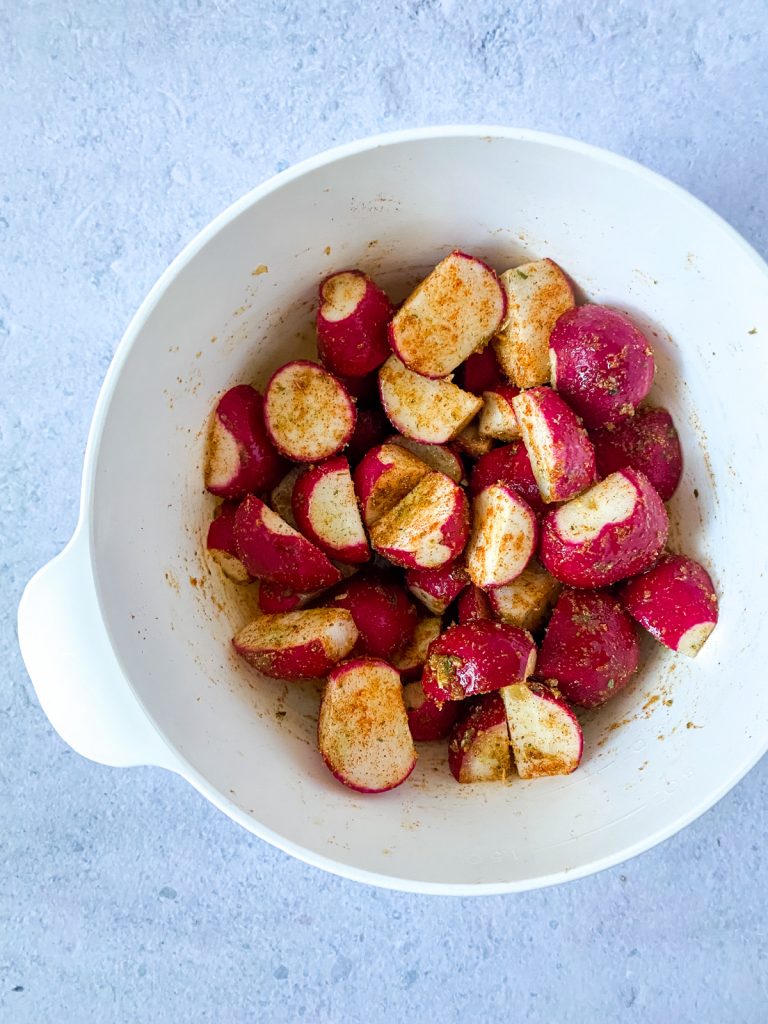 Cut your radishes.
Season and marinate for 30 minutes.
Air fry and toss half way through.
Can you make air fryer radishes in the oven?
Sure thing! If you don't have an air fryer you can roast radishes on a sheet pan for 30 minutes at 400 degrees Fahrenheit. Toss them half way through and serve with an additional sprinkle of salt and pepper.
Do roasted radishes taste like potatoes?
They have a slightly more peppery taste, similar to a turnip but they have similar texture and taste to roasted red potatoes.
Are air fryer radishes keto?
Absolutely! Each air fryer radish is just .2 grams of a carbohydrate. So 10 radishes would be 1 carb.
How do you reheat air fried radishes?
You could either air fry them for an additional 5 minutes, stir fry them on the stove, or microwave for 1 minute.
What do you eat air fried radishes with?
Any meal you typically serve roasted potatoes with, such as steak and asparagus.
If you are a fan of these air fryer radishes you should try my:
Air Fryer Artichokes
Air Fryer Brussel Sprouts with Bacon
Air Fryer Eggplant Parmesan
I hope you are Over the Spoon for this recipe!
It is my goal to inspire you to create healthy and easy meals.
It would mean the world if you could leave a review or a star rating below!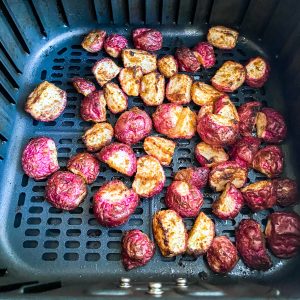 Air Fryer Radishes
An easy air fry radish recipe for a low carb side dish.
Ingredients
1

lb

whole radishes

2

tablespoon

avocado oil

¼

teaspoon

garlic powder

¼

teaspoon

onion powder

¼

teaspoon

salt

¼

teaspoon

pepper

¼

teaspoon

paprika
Instructions
Cut ends off of radishes and cut in half.

In a large bowl, toss radishes in avocado oil and seasonings.

Allow to marinate for at least 30 minutes.

Preheat air fryer to 400 degrees Fahrenheit.

Air fry marinated radishes for 12 minutes, tossing half way through and serve.
Nutrition
Calories:
81
kcal
Carbohydrates:
4
g
Protein:
1
g
Fat:
7
g
Saturated Fat:
1
g
Polyunsaturated Fat:
1
g
Monounsaturated Fat:
5
g
Sodium:
190
mg
Potassium:
270
mg
Fiber:
2
g
Sugar:
2
g
Vitamin A:
18
IU
Vitamin C:
17
mg
Calcium:
30
mg
Iron:
1
mg