Easy morning routines are the best.
I love to meal prep this chia seed porridge for breakfast for many reasons:
It's a convenient grab and go breakfast
its not a loud morning blender routine
its delicious AND nourishing
naturally vegan, dairy-free, and egg free.
Chia Seed Porridge is a great alternative to an oatmeal breakfast if you're looking for more of a low carb breakfast idea.
Frozen riced cauliflower gives this porridge great texture, an addition of vegetables and makes it more filling.
Store in individual containers for the 2-3 days at a time and throw on some toppings if you like in the morning.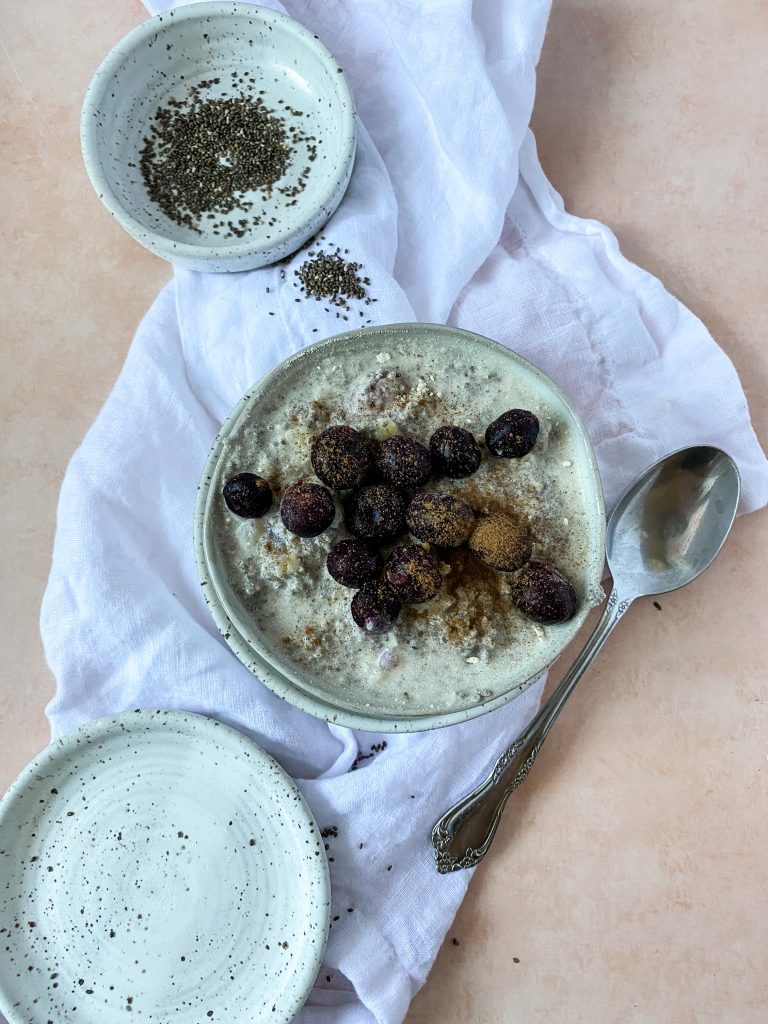 What you need:
Chia seeds or Basil Seeds
Vanilla Protein Powder
Frozen Cauliflower Rice
Almond Milk or (Oat Milk to make oat milk chia pudding)
Cinnamon
Frozen Mixed Berries
Substitutions:
You can use any milk or nut-milk of choice. Another favorite option is to make an Oat Milk Chia Pudding!
Optional to omit cauliflower rice.
Like it sweeter? Add maple syrup
Granola, nuts & seeds are welcome!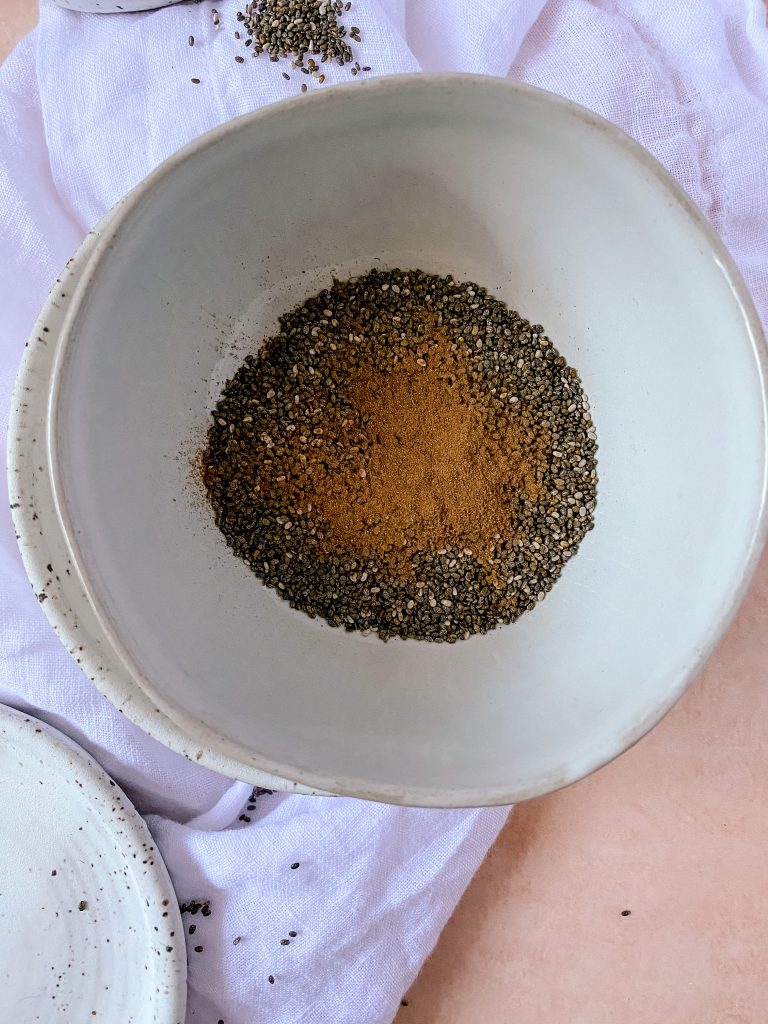 How to make chia seed porridge:
In a bowl or meal prep container, mix chia seeds, protein powder, and cinnamon.
Stir in almond milk and all to set for 5 minutes.
Stir chia seed mixture again and then add frozen cauliflower and frozen berries.
Stir one more time and put in the fridge over night.
Serve with favorite toppings! I always use a scoop of almond butter.
What if I don't want to wait until the morning?
You don't have to wait until overnight! I would at least let this sit out for about an hour at room temperature before eating to allow the berries and cauliflower rice to thaw.
If you made this at 8 am and brought it to work, it would be very cold but still great by 9 am.
To eat in about 15 minutes, omit frozen cauliflower rice and use fresh berries.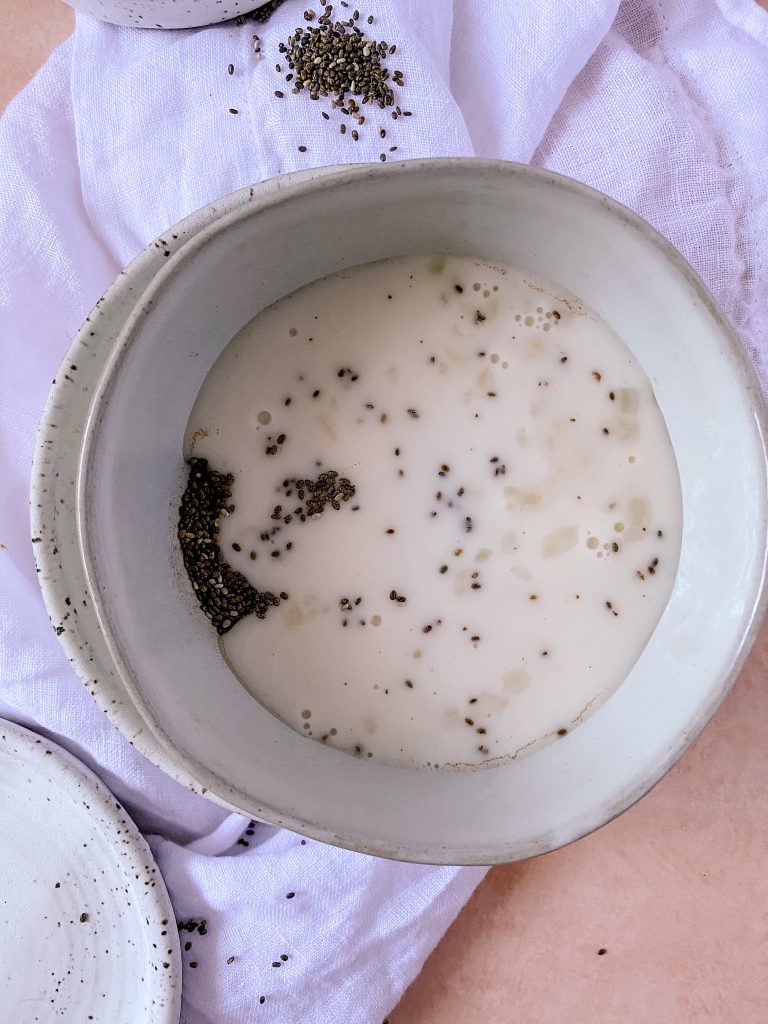 Benefits of this Chia Seed Porridge:
64% more potassium than a banana
41% of daily fiber
32% of daily magnesium
High in calcium, protein, and iron
Over the Spoon for:
egg-free breakfast
low carb meal choice
full of antioxidants
Making chia seed pudding with basil seeds instead?
What are basil seeds?
Edible basil seeds can be used instead of chia seeds in recipes. They contain more fiber, calcium, iron and potassium than chia seeds and are in incredible super food!
How to make basil seed pudding?
You can interchange basil seeds for chia seeds in any recipe! For this basil seed pudding use ½ cup nut milk or 2 tablespoons basil seeds.
Can I heat up chia seed porridge?
If you would rather eat this warm you can microwave in 20 second increments to heat up.
How far in advance can I prep chia porridge?
You can prep chia porridge 4 days in advance, if you are using protein powder only prep 2 days n advance.
I hope you are Over the Spoon for this recipe!
It is my goal to inspire you to create healthy and easy meals.
It would mean the world if you could leave a review or a star rating below!
Chia Seed Porridge
A delicious and nutritious healthy grab and go breakfast. This is a great low-carb no egg breakfast option.
Ingredients
2

tablespoons

chia seeds

1

serving

vanilla protein powder of choice

⅔

cup

almond milk or oat milk

½

cup

frozen cauliflower rice

½

teaspoon

cinnamon

¼

cup

fresh or frozen mixed berries
Instructions
In a bowl, stir chia seeds, cinnamon and protein powder.

Whisk in almond milk and allow to set for 5 minutes.

Add cauliflower rice and berries, stir and place in fridge overnight.

Top with nut butter to serve in the morning.
Nutrition
Calories:
298
kcal
Carbohydrates:
26
g
Protein:
26
g
Fat:
12
g
Saturated Fat:
2
g
Polyunsaturated Fat:
7
g
Monounsaturated Fat:
2
g
Trans Fat:
0.03
g
Cholesterol:
62
mg
Sodium:
322
mg
Potassium:
485
mg
Fiber:
12
g
Sugar:
7
g
Vitamin A:
34
IU
Vitamin C:
40
mg
Calcium:
536
mg
Iron:
2
mg