Say hello to the perfect crunchy chocolatey treat aka brownie brittle aka egg white brownies. These healthy and paleo brownie thins don't last long so make a double batch!
This is not your average brownie - it will make super thin - crispy - brownie bites.

With a handful of pantry staples, you can make these brownie thins in 30 minutes!
Over the Spoon for:
A Healthy and Paleo Brownie
Gluten-free & dairy free dessert
Low Sugar Brownie Treat
What you need:
These ingredients are to make the paleo version of this brownie thin recipe
*Note- if you do not have any dietary restrictions feel free to play around and make swaps with the ingredients!*
Egg Whites - this brownie recipe calls for egg whites only
Almond Flour --> *sub other flours
Cacao Powder --> *sub cocoa powder if not paleo
Monk Fruit Sweeter --> *sub other sweetener of choice
Unsweetened almond milk --> *sub dairy milk
Coconut Oil --> *sub vegetable oil
Vanilla extract
Egg whites --> If vegan could try a flax egg!
Baking Powder
Dairy-free mini chocolate chips
Additional Brownie Thin Flavor Ideas:
If you want to play around with the recipe, please be my guest and let me know what you try!!
Add in a tablespoon of peanut butter or favorite nut butter swirl
Mashed candy canes for a chocolate peppermint flavor
A tablespoon of raspberry jelly
Caramel pieces
A tablespoon of instant coffee for a mocha tasting brownie!
Tips for how to make these healthy brownie thins
Do I need to use egg whites?
YES! I know, I know - its easier to use the whole thing but this will create the right consistency.
How do these cook so quickly?
Since you are spreading a thin layer of brownie batter you want to check on these frequently to keep from burning.
Why do I have to let these cool?
Yes, you want these to cool and get crispy before cutting squares.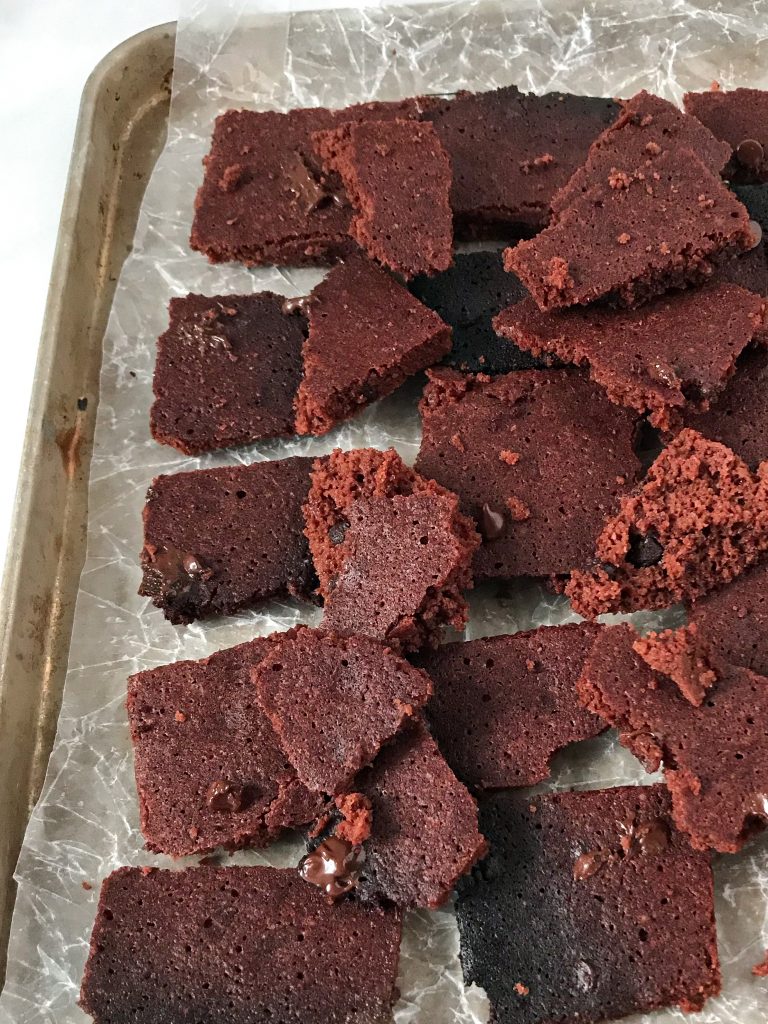 Looking for other healthy desserts? Try this Coffee Dessert Recipe for a coffee flavored treat. Not feeling like baking? Try this Edible Brownie Batter (Girl Scout Cookie Themed!)
I hope you are Over the Spoon for this recipe!
It is my goal to inspire you to create healthy and easy meals.
It would mean the world if you could leave a review or a star rating below!
Egg White Brownie Thins
This crunchy brownie recipe is the perfect brownie brittle treat for dessert. They are paleo, gluten free and dairy free.
Ingredients
2

egg whites

½

cup

monk fruit (or sweetener of choice)

¼

cup

melted coconut oil

¼

cup

almond milk

½

cup

almond flour

½

teaspoon

baking powder

¼

teaspoon

salt

1

teaspoon

vanilla extract

⅓

cups

mini chocolate chips

3

tablespoons

cocoa powder
Instructions
Preheat oven to 350 degrees.

In a large bowl mix together almond flour, baking powder, salt, and cocoa powder.

In a separate bowl whisk together egg whites and monk fruit (or sweetener of choice.)

Add egg white mixture, coconut oil, and almond milk to dry ingredients and stir until there are no clumps.

Grease a baking sheet and pour batter onto tray flattening into a rectangle approximately 1 centimeter thick.

Sprinkle with chocolate chips and bake for 25 minutes or until a toothpick comes out clean. Check on the brownies after 15 minutes to ensure they aren't cooking too quickly.

Allow to cool, cut into bite size pieces and serve.