Homemade low-sugar blueberry jam is my JAM! It is seriously SO easy, versatile, and healthy to make your own low sugar jam. In this recipe I made homemade blueberry chia jam, but you could switch out any fresh fruit you would like to try such as a strawberry jam or raspberry and orange.
Making homemade jam is cheaper than buying it in the grocery stores and is guaranteed less sugar than store bought.
This is the perfect recipe for blueberry season after you pick up some fresh blueberries from your local grocery store or even better, pick wild blueberries!
This small batch homemade low sugar blueberry jam is the perfect gift for friends and family to enjoy as well. Just grab some small half pint jars to gift this small batch jam.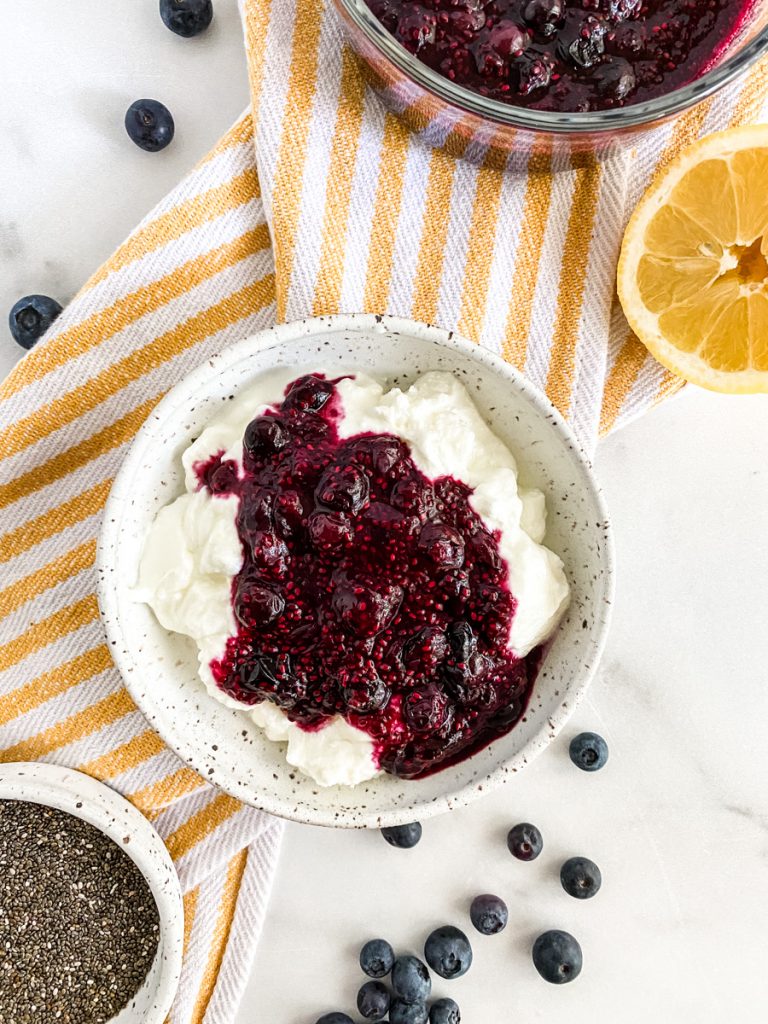 Over the Spoon for:
Full of fiber from chia seeds - (10 grams of fiber per 1 ounce!)
High in anti-oxidants from blueberries
Low sugar jam - this low sugar blueberry jam recipe only uses natural sugar from honey
What do you need: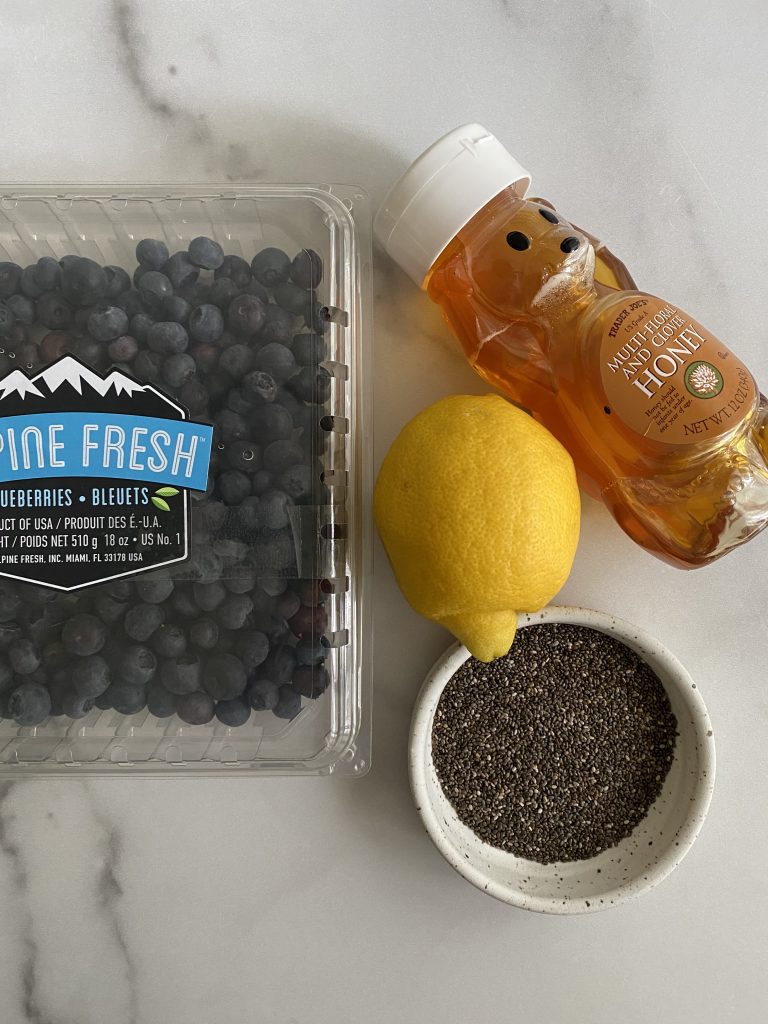 fresh blueberries or frozen blueberries
chia seeds - these will help solidify the homemade jam as they absorb liquid
honey - this replaces cups of sugar found in other recipes
lemon juice
substitution options:
no lemon juice? try fresh lime juice or orange juice
no honey? try using maple syrup
Why don't I need pectin?
While pectin is found in most jam and jelly recipes, blueberries are a natural pectin source that create their own gel to thicken the jam. The chia seeds are another binding agent so you do not need to buy a box of pectin for this recipe.
What do you eat blueberry jam with?
This homemade blueberry chia jam is great on so many things! You can top it over toast like normal jam, stir it in yogurt, serve it hot over vanilla ice cream, add it to your oat meal... the options are truly endless!
How to make small batch blueberry jam:

Start by heating and mashing blueberries over medium heat. You could use a potato masher or a spatula to mash the berries.
Stir in lemon juice, honey, and chia seeds.
Simmer for 5 minutes and allow to cool 
This chia seed jam will continue to thicken due to chia seeds absorbing 10-12 times their weight!
For best results allow to cool at room temperature before storing in a wide rim glass jar.
How to store:
This chia seed jam will continue to thicken due to chia seeds absorbing 10-12 times their weight!
Keep it in the fridge and if you want to make it a little thinner add a tablespoon of hot water and stir.
Serve within 5-6 days.
If you like this recipe you should try my:
Blueberry Smoothie with Almond Milk
I hope you are Over the Spoon for this recipe!
It is my goal to inspire you to create healthy and easy meals.
It would mean the world if you could leave a review or a star rating below!
Homemade Low Sugar Blueberry Jam (Small Batch!)
An easy and healthy homemade blueberry jam recipe.
Ingredients
2

cups

fresh or frozen blueberries

2

tbsp

chia seeds

1 ½

tbsp

honey

1 ½

tbsp

lemon juice
Instructions
In a large pan over medium heat, cook and lightly mash blueberries allowing juices to escape.

Stir in lemon juice and honey and allow to cook for 2 minutes.

Stir in chia seeds and stir for an additional 3 minutes.

Transfer jam to a microwave safe dish and allow to cool.
Notes
This recipe works great with fresh or frozen blueberries. There is no substitution for the chia seeds as they are needed to keep jam together. 
Nutrition
Calories:
64
kcal
Carbohydrates:
13
g
Protein:
1
g
Fat:
1
g
Saturated Fat:
1
g
Polyunsaturated Fat:
1
g
Monounsaturated Fat:
1
g
Trans Fat:
1
g
Sodium:
1
mg
Potassium:
61
mg
Fiber:
3
g
Sugar:
9
g
Vitamin A:
29
IU
Vitamin C:
6
mg
Calcium:
29
mg
Iron:
1
mg