If you've ever ordered Zucchini Fritte (aka Fried Zucchini) at a restaurant ... then you know how delicious it is! Did you know that you could make it at home annnnd in the air fryer instead?
Making air fryer zucchini fritte at home is a healthier option to make at home because you are in control of how much (and what kind of oil is used) and you can make it gluten-free!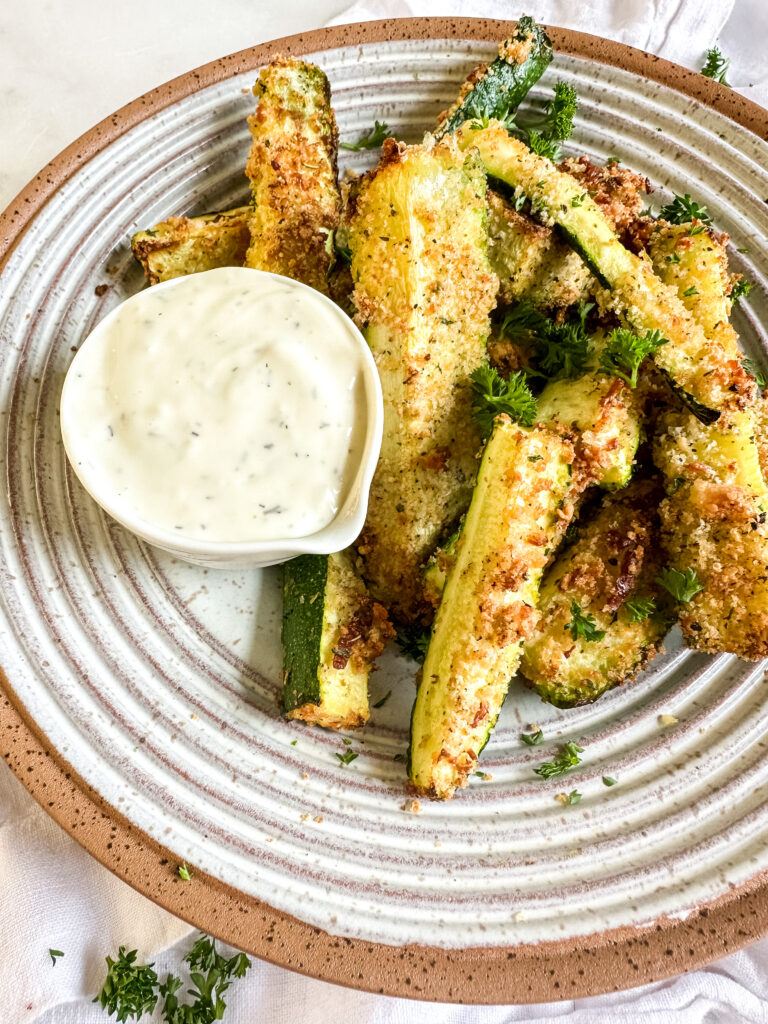 Unlike the restaurant version, that are deep fried in oils.
This zucchini fritte recipe only uses a touch of avocado oil spray.
They are deliciously crispy and coated in a mix of bread crumbs (can sub gluten-free!) and parmesan cheese.
What you dip the air fried zucchini in is up to you! I prefer to use ranch or you could go for a more italian flavor and dip in a warm marinara sauce.
What you need: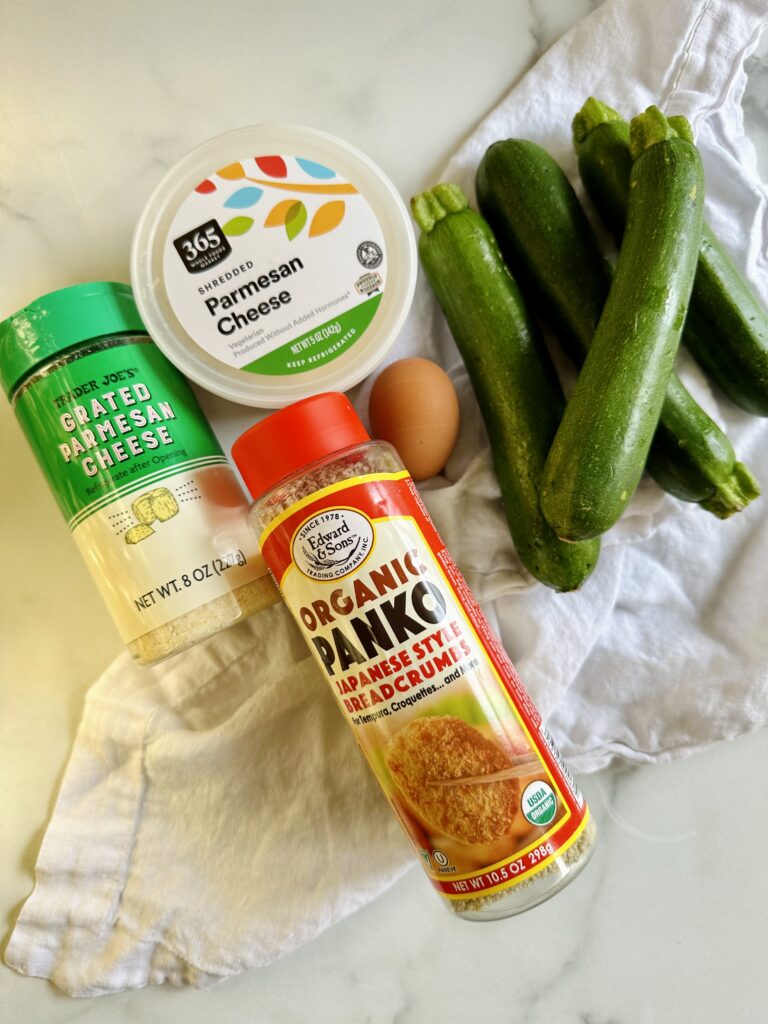 Fresh Zucchini - frozen zucchini won't work for this air fryer zucchini recipe due to the water content
Grated and shredded parmesan
Panko Bread Crumbs - you can use gluten-free bread crumbs if needed!
Eggs
Seasoning
How to make Zucchini Fritte:
Cut zucchini into spears and pat excess moisture dry with a towel.
Prepare an egg wash bowl and a separate dry seasoning bowl.
Dredge zucchini in egg wash and then bread crumb/ seasoning mix.
Air fry zucchini and serve with favorite dip!
Will Zucchini Fritte be crunchy in the air fryer?
Air fryer zucchini fritte will be crunchy on the outside from the breading and soft on the inside.
Can you overcook air fryer zucchini?
Yes! Be sure to follow instructions and check the time. If you cook it too long it will become soggy.
What do you eat with air fryer zucchini?
Think of this as a french fry, but instead it's a vegetable! Air fryer zucchini is the perfect side to a burger or favorite protein source.
Can you freeze air fryer zucchini?
This will not freeze well, unfortunately! I will get too watery and soggy when you try to reheat it.
How do I reheat zucchini fries?
You can reheat them in the over at 350 degree Fahrenheit or in the air fryer.
I hope you are Over the Spoon for this recipe!
It is my goal to inspire you to create healthy and easy meals.
It would mean the world if you could leave a review or a star rating below!
If you are a fan of this air fryer recipe you should try my:
Air Fryer Brussel Sprouts with Bacon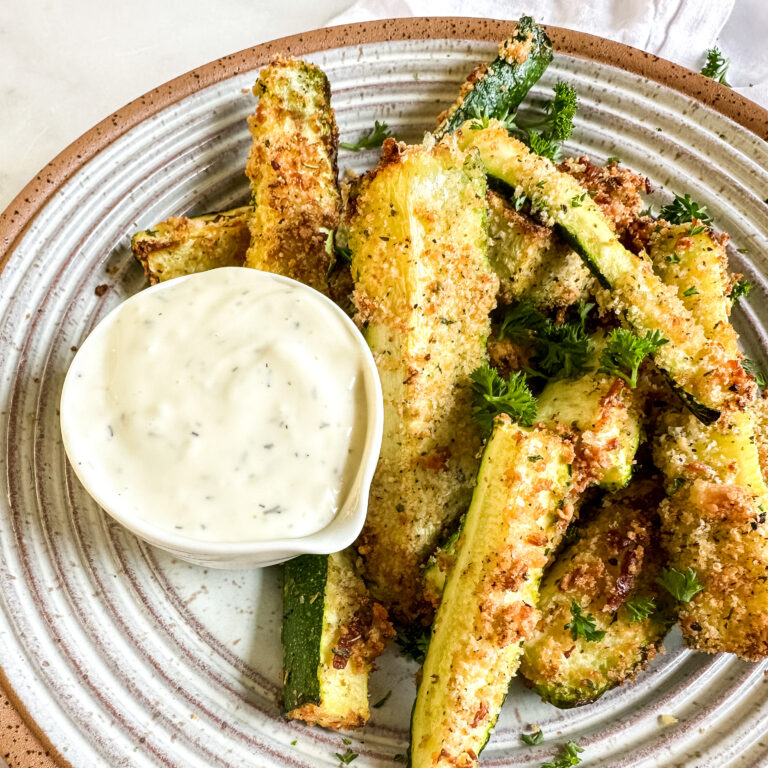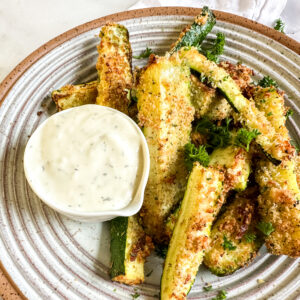 Zucchini Fritte (Air Fryer Zucchini)
This zucchini fritte recipe is made in the air fryer to make a much healthier version of zucchini fries than restaurants.
Ingredients
2

medium zucchinis

1

large

egg

½

cup

bread crumbs (can use gluten free)

¼

cup

grated parmesan

¼

cup

shredded parmesan

½

teaspoon

salt

1

teaspoon

italian seasoning

Nonstick cooking spray
Instructions
Preheat air fryer to 400 degrees.

Remove ends of zucchini and cut into spears, pat dry with a paper towel and set aside.

Whisk egg in a shallow bowl and set aside.

In a separate shallow bowl, mix together bread crumbs, parmesan, italian seasoning, and salt.

Dredge zucchini in egg, then cover in bread mixture, and place in air fryer basket.

Once air fryer basket has an even layer of zucchini, spray with cooking spray and cook for 10 minutes, tossing halfway through.

Serve with dipping sauce of choice.
Nutrition
Calories:
112
kcal
Carbohydrates:
11
g
Protein:
7
g
Fat:
4
g
Saturated Fat:
2
g
Polyunsaturated Fat:
1
g
Monounsaturated Fat:
1
g
Trans Fat:
0.004
g
Cholesterol:
45
mg
Sodium:
500
mg
Potassium:
258
mg
Fiber:
1
g
Sugar:
3
g
Vitamin A:
300
IU
Vitamin C:
14
mg
Calcium:
148
mg
Iron:
1
mg