Let's hear it for leeks! It is such a powerful detoxing food is amazing at adding so much flavor to foods especially soups.
This soup is an incredibly healthy, delicious, and cozy. My Oma used to make something very similar and it always reminds me of her.
I am not vegan but just happen to make a lot of 'happen to be' vegan recipes because they are GREAT!
This soup is gluten-free and dairy-free with the option to add cheese if you eat dairy!
What's do you need to make Leek and Zucchini Soup:
Immersion blender or a blender that can tolerate hot items
1 leek (you can sub yellow onions)
1 bag of frozen broccoli or cauliflower
2 medium zucchini
1 celery heart
3.5 cups vegetable broth (you can use chicken broth if not vegan)
1 avocado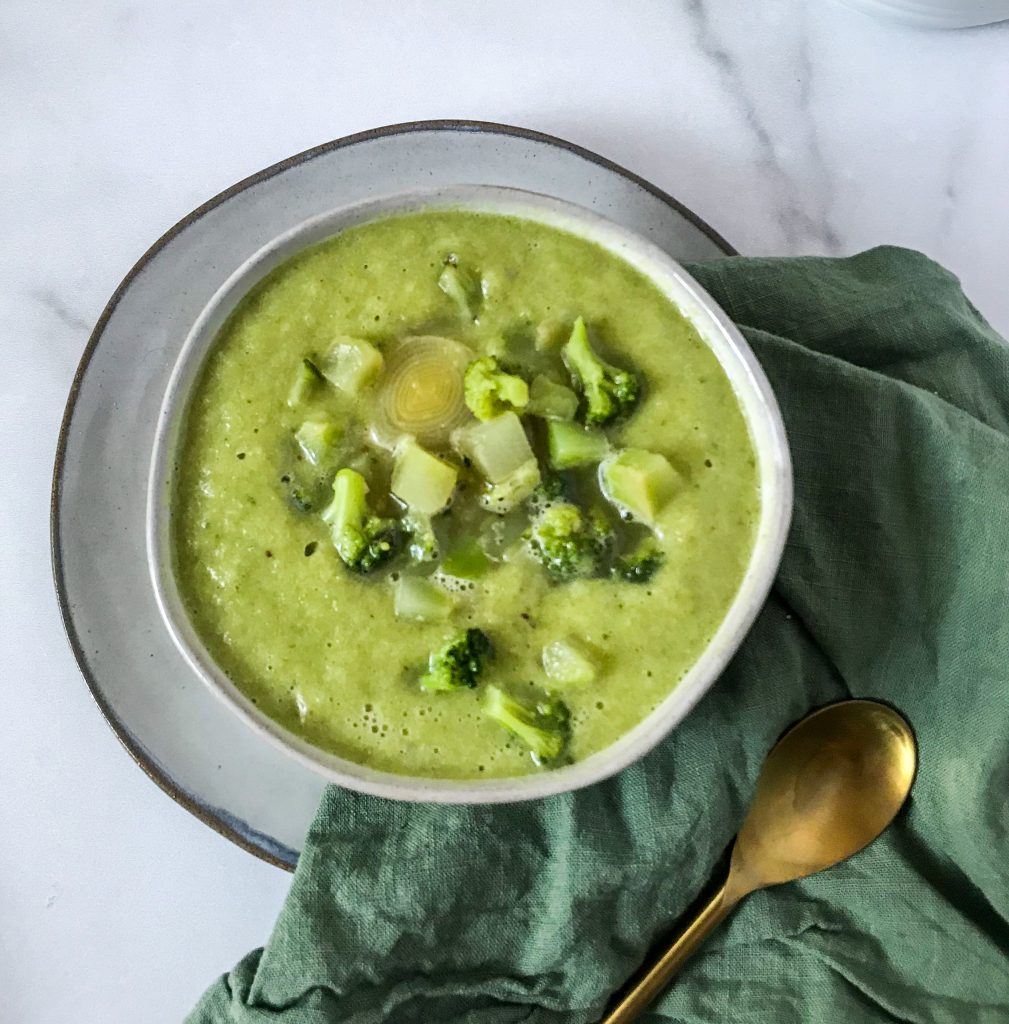 Can I make it cheesy?
To keep it Vegan you could absolutely add vegan safe cheese or 2 tablespoon of nutritional yeast to the recipe before blending for a cheesy flavor
If you are not vegan, use whatever shredded cheese you like on top!
What do I eat this creamy zucchini soup with?
To answer that I ask another question...what makes every soup better? Bread! Dip in some sourdough or french bread.
To add some protein and healthy fat sometimes I top it with Hemp Seeds.
Again if you aren't vegan you could add shredded chicken for protein as well!
Over the Spoon for:
Leek's strong detoxification powers
Lots of fiber
Naturally dairy and gluten-free
Pro tips for the best leek and zucchini soup:
Sauté the leek (or yellow onion) first! Add a little salt to the onion to let it "sweat"
If you are a garlic fan absolutely add some minced garlic to the leek as you sauté.
Make sure all the vegetables are tender before you blend
Scoop out a big serving of vegetables that wont be blended to add back in for some texture
Allow to cool *slightly* before adding avocado and blending
If you want a cheesy flavor add 2-3 tablespoons of Nutritional Yeast after boiling
If you are looking for other fun soups try: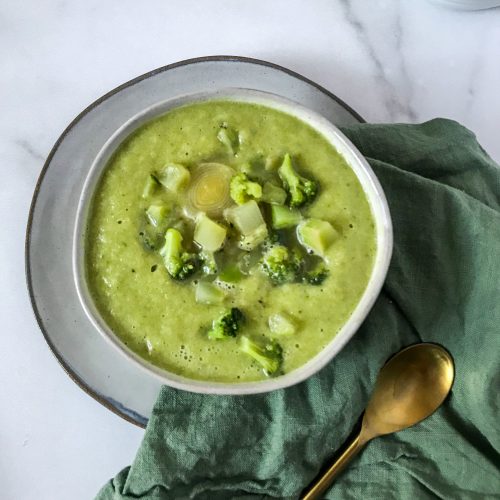 Leek and Zucchini Soup
This naturally vegan creamy zucchini soup is so simple and delicious made in one pot!
Ingredients
1

leek or yellow onion

1

bag of frozen broccoli or cauliflower

1

celery heart, chopped

2

zucchini, chopped

3.5

cups

vegetable broth

1

avocado
Instructions
Saute chopped leek in a large pot on medium with a spray of olive oil and a pinch of salt for about 3 minutes.

Add broccoli, zucchini, celery, and broth and turn heat on high.

Bring to a boil and cook for about 5 minutes or until vegetables are tender.

Turn off heat and scoop out about a half cup of vegetables and set aside.

Blend soup either with an immersion blender or a heat proof blender.

Add avocado and blend a littler more.

Return vegetables previously set aside to soup, add salt & pepper and serve.
Notes
If you'd like a cheesy soup, add 2 tablespoons of nutritional yeast before blending or top with shredded cheese before serving. 
Nutrition