I made the swap to using sweet potato as quiche crust a few years ago and there was no going back.
If you take anything from this recipe just promise me you'll try using sweet potato as crust for whatever your favorite quiche recipe is. PROMISE.
This sweet potato crust quiche is amazing for breakfast, lunch, or dinner and provides amazing sweet and salty flavor.
What you need to make Sweet Potato Crush Quiche:
1 large sweet potato
1 cup diced white onion
2 cups fresh spinach
4 ounces feta cheese
10 eggs
dried cranberries
Substitutions:
You can really make any variation of quiche flavors you would like!
Mushroom & swiss
Leeks and goat cheese
Sausage & cheddar
Hot tip! Try out the frozen diced onion to save time. Just sauté them on the stovetop and no chopping of veggies!
Over the spoon for:
Rainbow of colors and nutrients
Gluten-free crust
Vegetarian option
How to make the best sweet potato crush quiche:
Preheat oven to 425 Fahrenheit.
Wash and peel sweet potato and slice into ¼ inch pieces.
Spray dish with cooking spray and arrange sweet potato slices to cover base of dish.
Bake potato slices for 20 minutes, remove, and slightly mashed potatoes into dish with a fork.
Turn oven down to 350 degrees.
Sauté onions and spinach on the stovetop.
Top sweet potato crust with sautéed onion, spinach, feta, and cranberries.
Whisk eggs with salt and pepper and pour over sweet potato and topping base.
Bake for 25 minutes.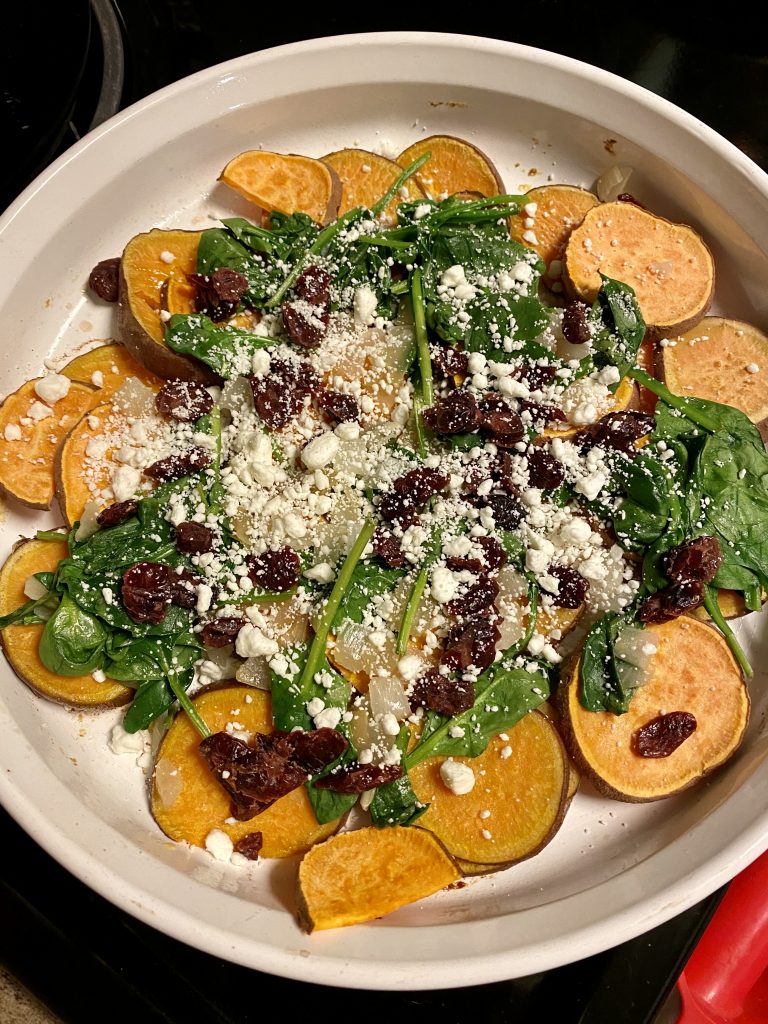 For another great weekday breakfast, try these Pizza for Breakfast Egg Cups.
It would mean the world if you could rate this recipe or leave a comment below if you give it a try 🙂
Sweet Potato Crusted Quiche Recipe
Healthy Quiche recipe filled with veggies, cranberries, and a sweet potato crust
Ingredients
1

large

sweet potato

1

cup

diced white onion

2

cups

fresh spinach

4

ounces

feta cheese

10

eggs

¼

cup

dried cranberries

1

tablespoon

olive oil

salt and pepper to taste
Instructions
Preheat oven to 425 degrees Fahrenheit.

While oven preheats, wash and peel sweet potato. Slice into approximately ¼ inch pieces.

Toss sweet potato in olive oil and line bottom of baking dish with sweet potato.

Bake crust for 20 minutes or until sweet potato feels tender. Turn oven down to 350 degrees Fahrenheit.

Quickly saute onions and spinach on the stove top.

Top sweet potato crust with onions, feta, spinach, cranberries, salt and pepper.

In a large bowl, whisk together eggs and pour over dish.

Place quiche back in oven for 25 minutes or until egg cooked through.