Whether you just got home from a vacation, a hospital stay, or are facing a global pandemic making it hard to shop in the grocery store…
You might be facing a situation where your only option to create a meal is by using items in your pantry.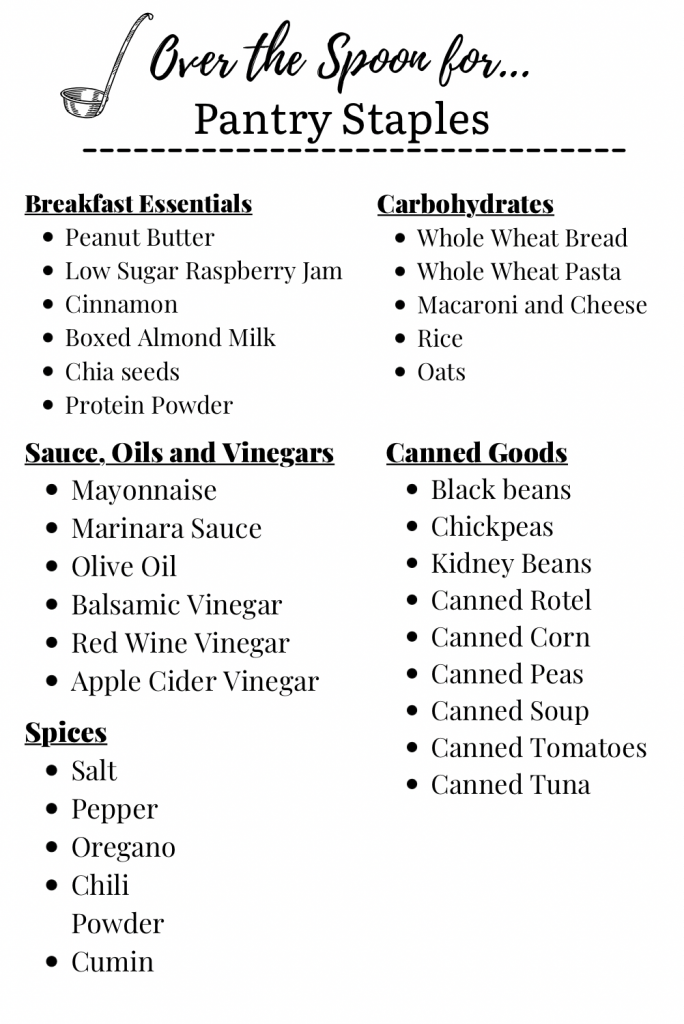 Don't let that get you down! There are plenty of easy meals you can make by using items from your pantry.
This list will cover pantry staples used to make meals and the best pantry meals to make from them.
Breakfast Pantry Recipes:
the most important meal of the day can easily be made healthy with pantry staples.
These breakfast items incorporate protein to fill you up in the morning and help you make it to lunch time.
Filling Oatmeal
Mix plain quick cook oats, plain or vanilla protein powder, and water in a bowl and microwave for 1 minute.
Option to add frozen berries or raspberry jam  and cook an additional 30 seconds.
This breakfast will provide filling fiber and protein.
2. Healthy Banana Pancakes
This healthy banana pancake recipe is great if you've just gotten home and realize you have over-ripe bananas. You do need eggs, which you may still have in your refrigerator.
3. Protein Bar
A high protein bar is the easiest breakfast option but not necessarily the most affordable of the other breakfast options.  Protein bars are a ready to go choice and high in protein compared to a simple granola bar.
4. Peanut Butter Toast
One of my most favorite and classic breakfast meals.
Whole grain toast topped with peanut butter and cinnamon is great for filling you up with protein, fiber, healthy fats, and the added bonus of cinnamon to balance your blood sugar.
5. Chia seed Pudding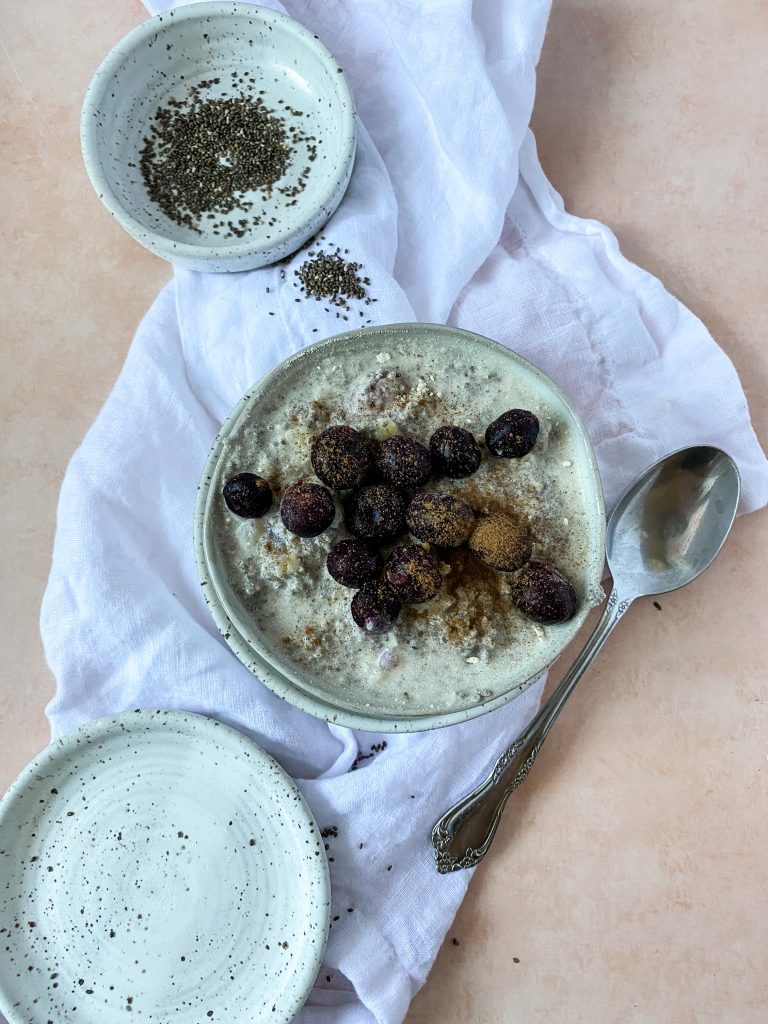 Chia seeds are a great pantry staple! They are full of fiber, protein, and omega-3s. Mixing them with a liquid such as almond milk (another pantry staple) turns it into a pudding because the chia seeds absorb 10X their weight in liquid. Adding protein powder and cinnamon to this mixture makes it a filling meal.
Lunch Pantry Meals:
Make a quick and easy pantry recipe for lunch or use any dinner recipe for lunch.
1. Canned Soup
Similar to the protein bar for breakfast, opening and heating a can of soup is another very simple and easy meal option. Look for soups with lower sodium levels and bout 15-20 grams of protein to keep you full longer.
Tuna Salad
Canned tuna, canned salmon, canned chicken, or even canned and mashed chickpeas make for a great protein base for a "tuna" salad.
To make mix 1 can with 1 tablespoon mayonnaise, 1 teaspoon Dijon mustard, salt and pepper.
If you have them: add in celery, red onion, or dried cranberries.
Serve plain or top on wheat toast.
Easy Mexican Beans and rice
This is one of my favorite pantry meals! It is a vegetarian pantry meal that's full of fiber, protein, and all 9 amino acids. It is one of the cheapest options and has so many ways you can customize it.
Dinner Pantry Recipes:
Vegetarian Chili
This recipe is great to throw everything in a slow cooker or in a large pan on the stove.
It is full of vegetables and has the option to add different flavors of your choice!
Pasta + marinara
One of the easiest pantry dinners of all time! Cook pasta according to instructions in a pot on the stove, strain pasta, add marina sauce and heat.
Optional to add frozen meatballs for additional protein.
Macaroni and Cheese + canned chicken or tuna
Macaroni and cheese with canned tuna is another great and easy pantry meal! Adding the tuna gives it more protein and has a similar taste to a tuna casserole.
Simply cook the macaroni and cheese according to the box instructions and then stir in 2 cans of tuna.
I hope this is helpful for you! Let me know what you think in the comments below!
If you are looking for more healthy recipes take a look at The Best Meals to Bring Friends After Surgery.