Finally, gluten-free cornbread!
It's hard to find healthy cornbread that is gluten-free and not full of added sugars. And I'm so happy because honestly, what is a good bowl of chili without cornbread?
This is not your typical corn bread.
This healthy cornbread actually uses *gasp* corn instead of cornmeal for the corn flavor. It is very moist and not a crumbly cornbread.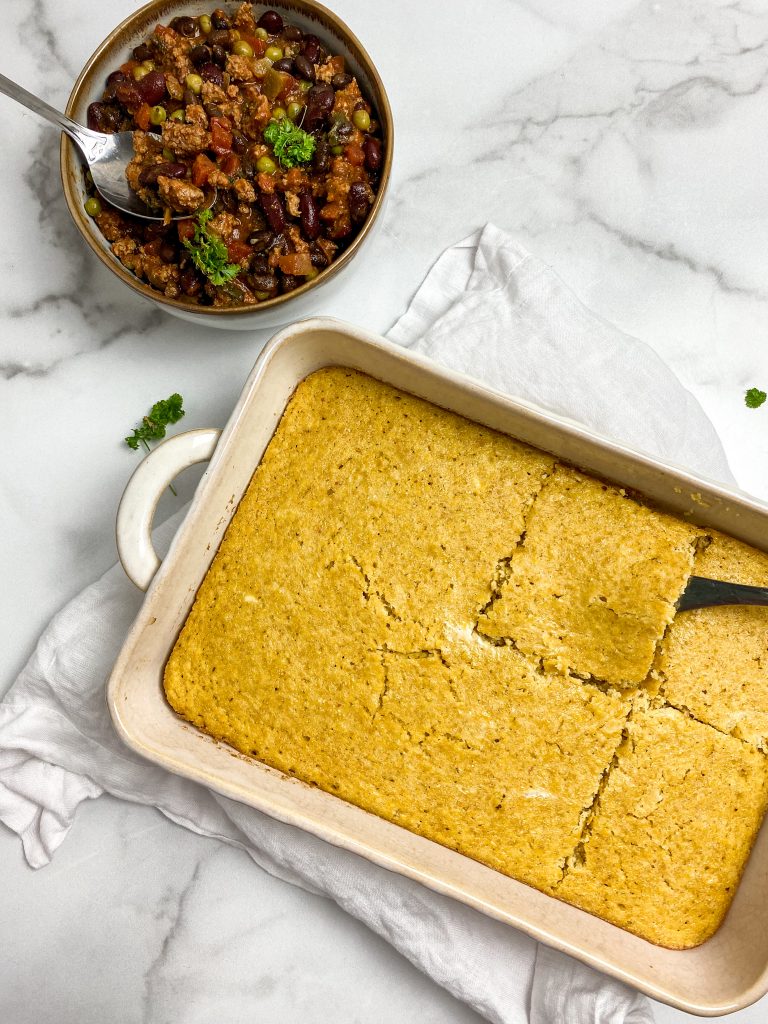 Is there flour or cornmeal in this cornbread?
After many attempts without any sort of flour, the best consistency required just 2 tablespoons of all purpose gluten-free flour!
This healthy cornbread recipe is safe for those with celiac disease.
The star of this recipe is a can of blended chickpeas & corn rather than flour and corn meal.
The blended chickpeas gives this cornbread an incredible moist texture and added (21 grams!) of protein.
How is this cornbread healthy?
it's made with real ingredients aka nothing processed
it's high in protein from the eggs and the chickpeas
uses monk fruit instead of granulated sugar to avoid raising blood sugar levels
it is high in fiber from the corn and chickpeas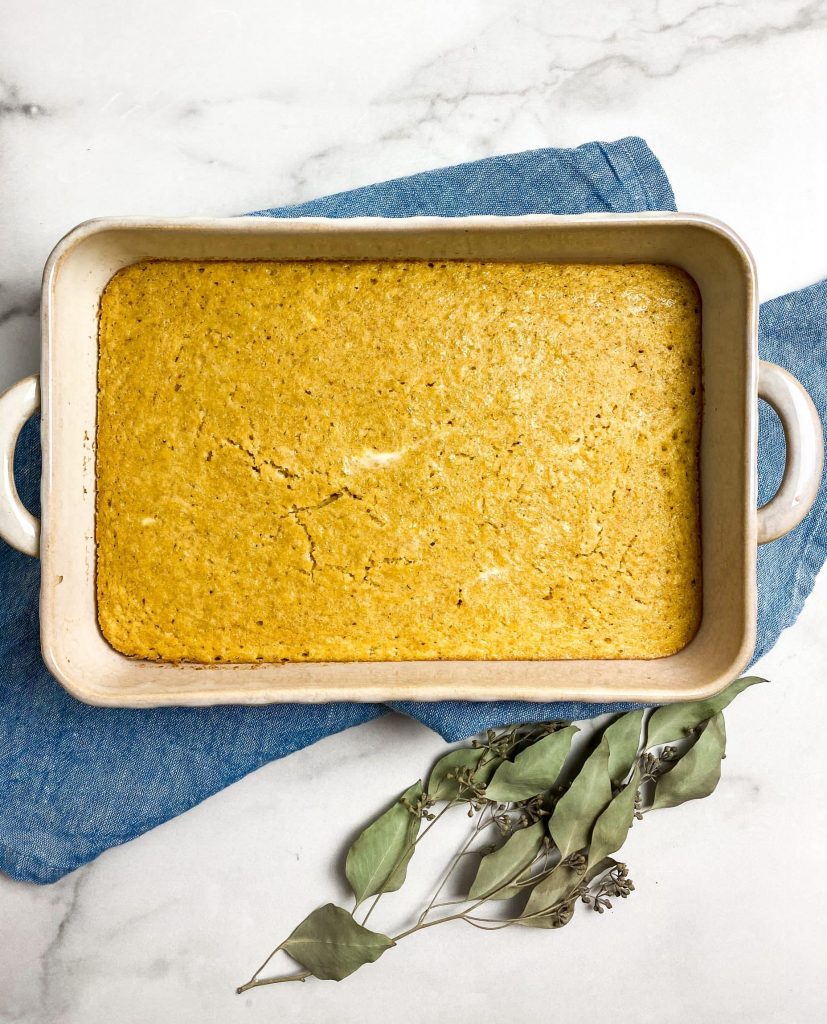 Tips to make Healthy Cornbread:
Only drain the chickpea can ½ way, the juices help the consistency!
Make sure to use a blender or food processor
Use a can of unsalted corn to keep it from getting too salty
Make sure to use gluten-free all purpose flour if you need it to be gluten-free!
Top with (preferably grass-fed) butter  and a sprinkle of salt while it's cooling and allow butter to melt in to corn bread for added flavor
Can I make it keto cornbread?
To have this cornbread fall more in line with a keto diet, use almond flour instead of all-purpose gluten-free flour. This WILL affect the consistency and make it a very moist consistency but it will still have great cornbread taste!
Over the Spoon for:
high protein and filling
real ingredients
gluten-free
What do you need to make this healthy cornbread?
1 can chickpeas
1 can corn
3 eggs
salt
monk fruit sweetener
melted ghee or butter
baking powder
gluten-free flour
Substitutions:
no ghee? use olive oil
no monk fruit? use coconut sugar or granulated sugar
don't need gluten-free? try all purpose flour.
How to make the best healthy cornbread: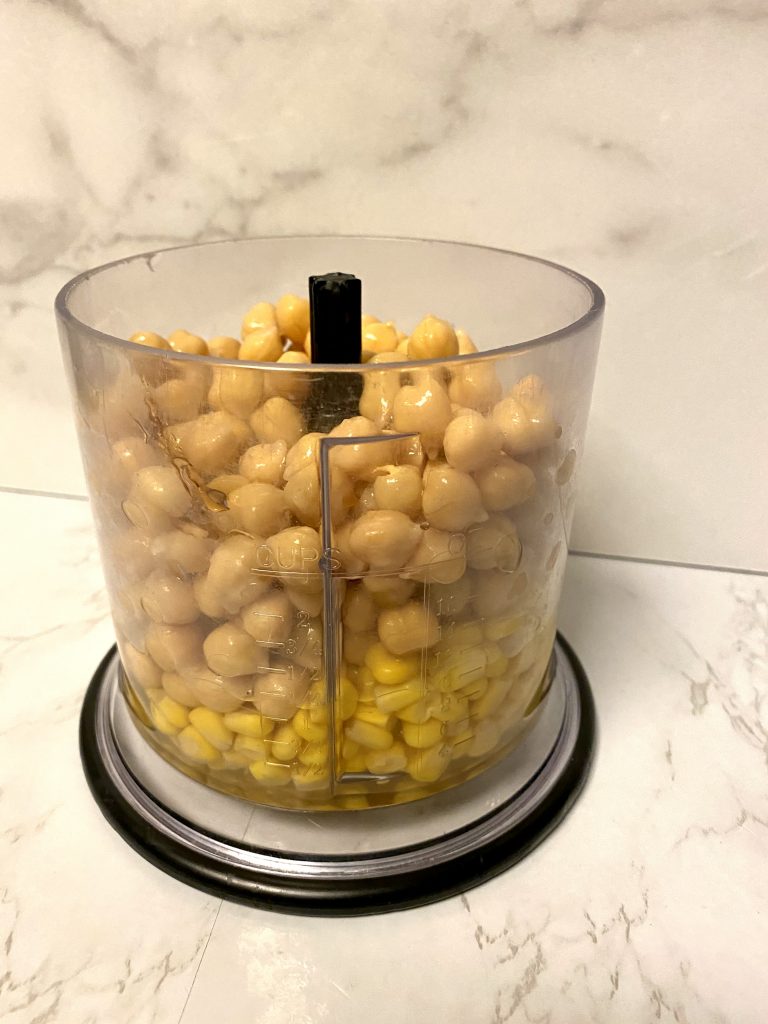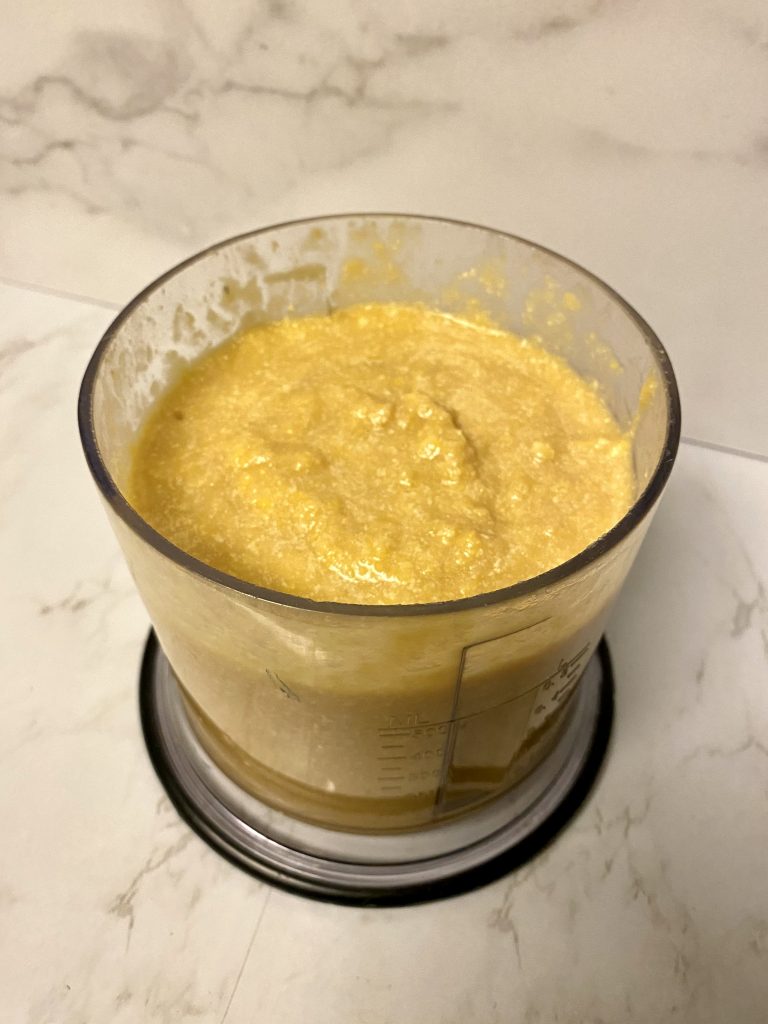 Preheat oven to 375.
Blend together chickpea, corn, and 1 egg
Blend in salt, sweetener, olive oil, baking powder, flour, and remaining eggs.
Bake for 30 minutes.
Allow to cool before cutting and serving.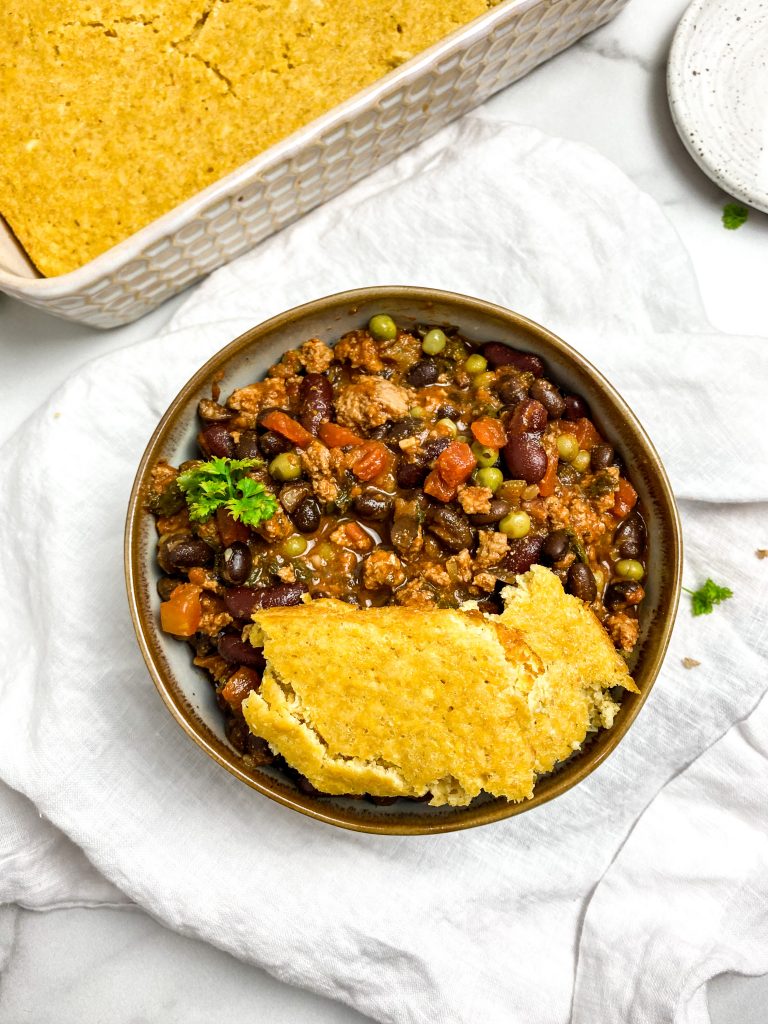 Flavors to add to cornbread:
Feel free to play with substitutions! Try adding some diced jalapenos or honey depending if you like your cornbread sweet or spicy.
Storing:
Store this in the fridge for about a week.
Looking for more gluten-free breads? Try these Easy 3-ingredient Gluten-free Bagels!
Healthy Gluten-free Cornbread
A healthy take on cornbread, made gluten-free.
Ingredients
1

can

chickpeas (½ drained)

¾

can

drained corn

3

large

eggs

½

teaspoon

salt

3

tablespoons

monk fruit sweetener (or baking sweetener of choice)

1 ½

tablespoons

melted ghee

1 ½

teaspoons

baking powder

2

tablespoons

gluten-free flour (or flour of choice if not gluten free)
Instructions
Preheat oven to 350 and grease a preferred baking dish.

Blend together ½ drained can of chickpeas, 1 egg, and corn either in a blender or large bowl with an immersion blender.

Blend in salt, sweetener, butter, baking powder, flour and 2 more eggs.

Pour into baking dish and bake for approximately 30 minutes or until toothpick comes out clean.

Allow to cool, top with butter for serving.