I recently saw an article that a huge millennial trend is to eat meals out of bowls for lunch (compared to a classic sandwich meal prep) and while I don't *love* to be looped in to millennial trends, I do LOVE a good bowl recipe. Power bowl, meal prep bowl, or buddha bowl recipe- I'll take one, please!
What is a Buddha Bowl?
There are all sorts of definitions out there on the origin of a Buddha Bowl Recipe and where it got it's name.
Some prefer to keep their buddha bowls vegetarian or vegan (the classic buddha bowl recipe) and some do not. I prefer to keep mine free of processed foods and focus on a nourishing and satiating bowl.
According to Katherine's article How the Buddha Bowl Got It's Name "Buddha woke up before dawn every morning and carried his bowl through the roads or paths wherever he was staying. Local people would place food in the bowl as a donation, and at the end he would eat whatever he had been given,"
"So that was the original Buddha Bowl: a big bowl of whatever food villagers had available and could afford to share."
What a great concept, that I love to build my bowls from. This goes to show they are really not a "recipe" at all! I usually call them a "Hodge Podge" meal made by foraging the fridge and pantry for whatever I have on hand. Rather than asking if your buddha bowl is healthy, think about if its nourishing and going to fill you up!
Buddha bowls, sometimes called power bowls, or meal prep bowls...
are a great way to fill up on a lot of great flavors and nutrients AND use up what you have on hand. WIN WIN.
The basics I look for when building a bowl:
Whole grains: such as quinoa, rice, couscous, or farro
Vegetables: Anything goes here! Roasted vegetables, fresh veggies, frozen  or canned vegetables.
Herbs: If you have any fresh herbs or favorite spices these are a great addition
Protein: shredded chicken, ground turkey, sausage, lentils, beans, or tofu
Dressing: The best part! You can make your own in a food processer with avocado, lemon or lime, and fresh herbs, use simple olive oil and vinegar, or use your favorite unprocessed dressing you have on hand!
How to make a Buddha Bowl:
Layer the bottom of your bowl with a serving of grains and toss in the dressing you are going to use.
Add a layer of vegetables
Top with protein
Drizzle another layer of sauce
Garnish with your favorite herbs, salt, and pepper.
If you are meal prepping when making your power bowl, get out a meal saving container and make 2!
Types of Buddha Bowl Recipes (flavor profiles):
This is the fun part! Assess what you have on hand and see if there are any themes you could use to make your bowl.
Some ideas are:
Greek Bowl  - using a grain, red wine vinaigrette, any topping ranging from --> pepperoncini peppers, Kalamata olives, feta, spinach, chickpeas, tzatziki
Mexican Bowl- rice, protein, guacamole, salsa, cheese, chopped lettuce, tomato, bell pepper
Poke Bowl- using a soy sauce based sauce, fish, pineapple or mango, edamame, avocado and grains
Thai Bowl with Homemade Peanut Thai Dressing
Any favorite curry sauce with roasted vegetables and grains
The options are really endless!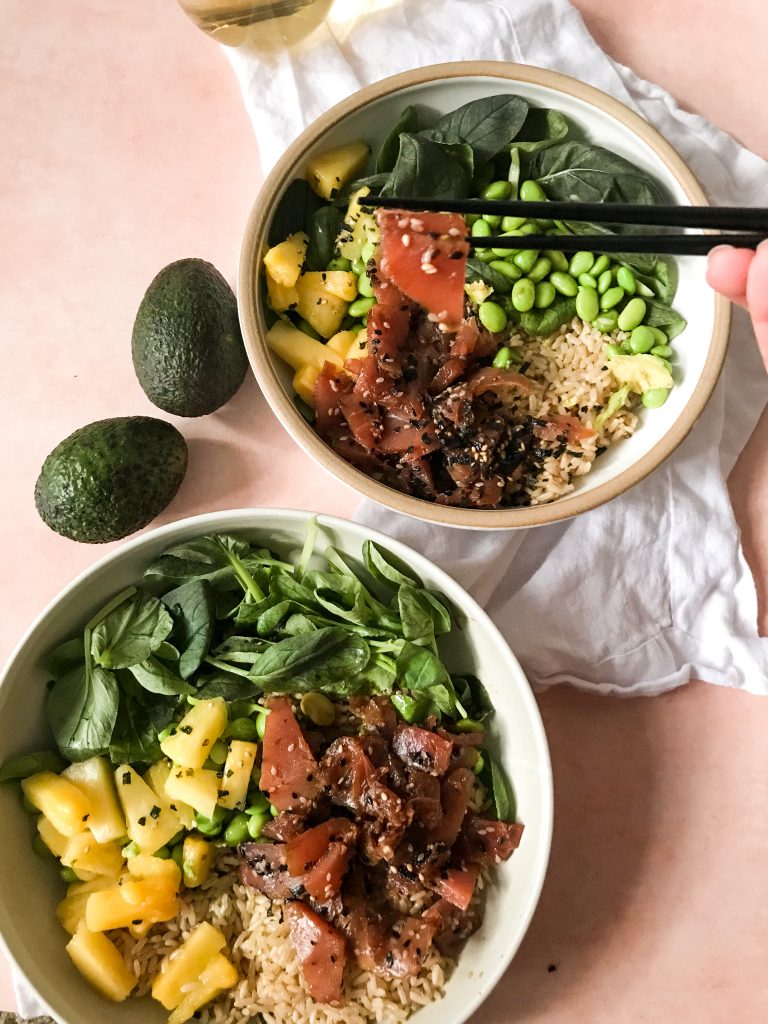 Let me know your favorite kind of bowl to build in the comments below!
How to Build a Buddha Bowl
A quick and simple guide to building a buddha bowl
Ingredients
1

serving

grains

1

serving

vegetables

1

serving

protein

1

serving

healthy fat from dressing
Instructions
Choose a "theme" or flavor profile for your bowl based on what you have on hand.

Add a layer of cooked grains and drizzle on dressing, salt and pepper.

Top with vegetables, protein, and dressing.

Heat up your bowl if it makes sense to serve warm.

Garnish with herbs and serve!