Using the microwave is my favorite way to cook a whole spaghetti squash because it is SO fast and easy.
It only takes 10 minutes to steam a whole spaghetti squash in the microwave, compared to closer to an hour in the oven .
Over the spoon for:
Cooking spaghetti squash in the microwave is fast and easy meal prep
You can use this as an easy gluten-free swap for pasta
Spaghetti Squash is rich in vitamins, minerals, and antioxidants
What do you need:
All you need is a spaghetti squash, a sharp knife, a large microwave safe bowl, and a microwave.
How to make:
Start by piercing the spaghetti squash with a knife in multiple areas around squash.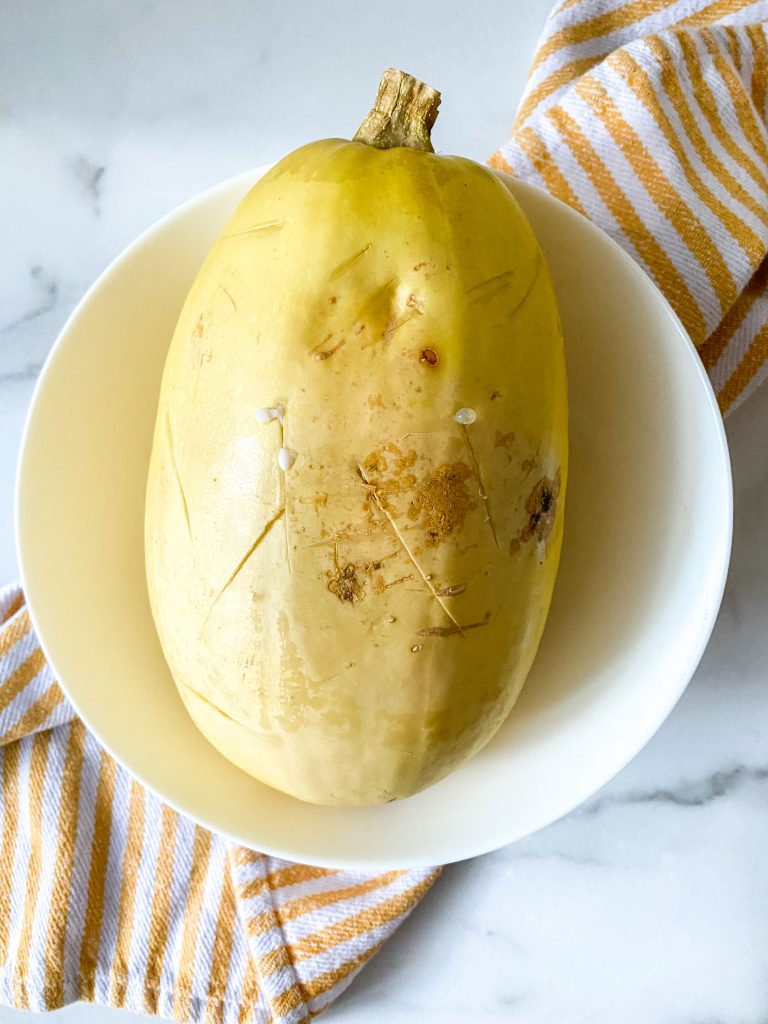 Place squash in a large microwave safe bowl with a small amount of water in bowl and microwave for 10 minutes, turning the squash halfway through.
Slice squash in half (careful for hot steam!) and allow to slightly cool before scooping out seeds and shredding.
How to tell if the squash is done?
The outside of the squash should feel slightly soft to touch like a ripe avocado.

How do you shred spaghetti squash?
Once squash has slightly cooled, use two forks to shred squash apart to look like spaghetti noodles. It will feel like pulling apart pulled pork.
Can you freeze cooked spaghetti squash?
Yes! You can freeze the cooked squash, when your ready to eat it, thaw the squash and then strain excess liquid.
Do I have to peel my spaghetti squash?
While you don't want to eat the skin, you can just cut the squash in half after cooking and scoop out contents.
How long does cooked spaghetti squash last?
It will last about a week in the refrigerator, or you can freeze it.
Looking for recipes using cooked spaghetti squash? Try this Spaghetti Squash Casserole with Chicken Caprese or Easy Shrimp Spaghetti Squash Recipe. You can always serve with marinara and parmesan cheese for an easy meal!
I hope you are Over the Spoon for this recipe!
It is my goal to inspire you to create healthy and easy meals.
It would mean the world if you could leave a review or a star rating below!
How to Cook a whole Spaghetti Squash
The fastest way to cook spaghetti squash
Ingredients
1

Spaghetti Squash

2

tbsp

water
Instructions
Pierce squash with a sharp knife on all sides to allow steam to vent.

Place in microwave safe bowl with 2 tbsp of water and microwave for 5 minutes.

Turn squash cook for an additional 5 minutes.

Carefully cut squash in half allowing steam to release and squash to cool.

Scoop out seeds and shred spaghetti squash to serve.
Notes
Make sure squash is fully cooked before cutting in half, if the outside of the squash does not feel 'ripe' cook for an additional 3-5 minutes. 
Nutrition
Calories:
75
kcal
Carbohydrates:
17
g
Protein:
2
g
Fat:
1
g
Saturated Fat:
1
g
Polyunsaturated Fat:
1
g
Monounsaturated Fat:
1
g
Sodium:
41
mg
Potassium:
261
mg
Fiber:
4
g
Sugar:
7
g
Vitamin A:
290
IU
Vitamin C:
5
mg
Calcium:
56
mg
Iron:
1
mg